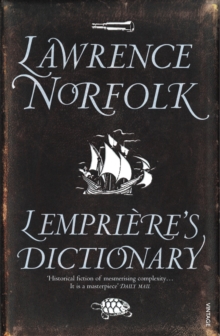 Lempriere's Dictionary
Paperback
Description
As the seventeenth century opens, a band of venturers forms the Honourable Company of Merchants trading from England to the East Indies.
In France, the siege of La Rochelle ends with the massacre of thirty thousand men, women and children.
Almost two centuries later, in 1788, John Lempriere published his classical dictionary.
This much is fact. Lawrence Norfolk tells us how the first two events led, inescapably, to the third. This amazing tale encompasses the Great Voyages of Discovery and multinational financial conspiracies, and leads a motley cast of scholars and eccentrics, drunk aristocrats and whores, assassins and octogenarian pirates through two centuries and three continents to the brink of French Revolution. John Lempriere reluctantly enters this world as an introverted scholar, obsessed by the myths of antiquity.
At the end of this astonishing story he understands that it takes far more than learning to lay the ghosts of the past to rest.
Information
Format: Paperback
Pages: 656 pages
Publisher: Vintage Publishing
Publication Date: 02/07/1992
Category: Historical fiction
ISBN: 9780749398194
Free Home Delivery
on all orders
Pick up orders
from local bookshops
Reviews
Showing 1 - 3 of 3 reviews.
Review by Clurb
16/06/2015
Whilst I generally enjoyed the plot, reading this book was a real trudging effort. The style of writing is very reminiscent of Dickins and the immense descriptive detail Norfolk uses is really quite stunning, but at the same time incredibly annoying when you're as gripped by the plot as I was and have to wade through it all. A long, slow, involved read, but one that entertains. Worth the effort. Just.
Review by LegalMove
16/06/2015
Incredibly original novel in which ancient Greek myths play out in England, starting from the opening scene in which the protagonist's father is ripped apart by a pack of dogs
Review by gbsallery
16/06/2015
Rich, intricate, linguistically brilliant, but hard work. I would like to have been able to rate this book more highly, if only by way of acknowledgement of the difficulty of packing this much intricacy into a single novel. However, the technique of retelling the story from multiple overlapping viewpoints seriously hampered the pace and readability; I say this as someone who loved the Baroque Cycle (Neal Stephenson), so it's not like it's the density itself which is offputting.The ending was also rather disappointing; if I had known it was going to be a ghost story, I wouldn't have started reading.