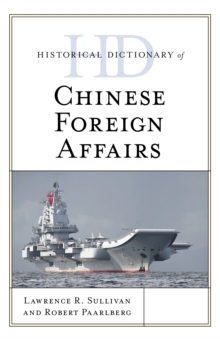 Historical Dictionary of Chinese Foreign Affairs
Hardback
Description
In an act of totally unnecessary and wanton destruction, British forces in China during the Second Opium War (1856-1860) looted and destroyed much of the Old Imperial Summer Palace (Yuanmingyuan) including three imperial gardens and hundreds of halls, pavilions, and temples stock full of ancient artwork, antiquities, and literary works.
More than a hundred years later, President Xi Jinping (2013- ) of the People's Republic of China (PRC) proclaimed the "rejuvenation" of the Chinese nation with the economic and especially military power to prevent any such recurrence of "national humiliation." Though not yet a superpower equal in global stature to the United States, the PRC is undoubtedly poised to become the equal if not the superior power in the Asia-Pacific region expanding its territorial claims in the South China Sea and asserting undisputed economic dominance.
With government, business, and academic leaders debating how regional and global powers should respond to a rising China. Historical Dictionary of Chinese Foreign Affairs contains a chronology, an introduction, a glossary, appendixes, and an extensive bibliography.
The dictionary section has over 300 cross-referenced entries on major events, national institutions, foreign nations, and personages impacting Chinese foreign affairs along with the many institutions of the post-World War II international order that the PRC has engaged especially since the 1970s.
This book is an excellent resource for students, researchers, and anyone wanting to know more about Chinese foreign affairs.
Information
Format: Hardback
Pages: 584 pages, 2 Maps; 4 Illustrations, black and white
Publisher: Rowman & Littlefield
Publication Date: 18/09/2018
Category: Dictionaries
ISBN: 9781538111611
Free Home Delivery
on all orders
Pick up orders
from local bookshops