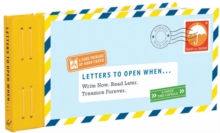 Letters to Open When...
Other printed item
Description
A delightful time capsule and bucket list in oneA winning combination of two bestselling series, Listography and One Line a Day: For list-making fanatics daunted by the idea of keeping a journal or diary, the simple commitment of Listography: One List a Day is manageable for everyone.
Each page features the date, one list topic, and space to jot down three things for three successive years.
Easy to do and packed with engaging prompts covering a range of subjects (movies, music, travel, childhood memories, goals, and more), this illustrated journal serves as a delightful time capsule and bucket list in one. * Use the Listography: One List a Day, 3-year journal format to provide an insightful snapshot of your thoughts, memories, likes and dislikes on each of the 365 days of the year* See patterns emerge as important events like anniversaries, birthdays and holidays come and go* Lisa Nola is the creator of the Listography book series and the popular list-making website, listography.com.
With over one million copies sold, her books inspire creative auto-biography and reinvention through list-makingListography: One List a Day will appeal to list-lovers who are new to the journaling habit and seasoned journalers alike.
The Listography: One List a Day 3-Year Journal is a perfect way to meditate on the past, present, and future. * A great way to begin the day or to put down a final thought before falling asleep at night* Makes a great graduation or milestone birthday gift, or for someone starting on a new journey in life* Keepsake diary will enhance the appreciation of life and be a treasure for years to come
Information
Format: Other printed item
Pages: 12 pages
Publisher: Chronicle Books
Publication Date: 11/05/2016
Category: Stationery items
ISBN: 9781452148724
Also in the Letters To My series | View all