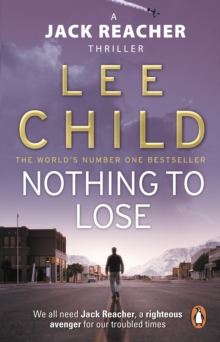 Nothing To Lose : (Jack Reacher 12)
Paperback
Description
Featuring Jack Reacher, hero of the new blockbuster movie starring Tom Cruise. From Hope to Despair. Between two small towns in Colorado, nothing but twelve miles of empty road.
All Jack Reacher wants is a cup of coffee.What he gets are four redneck deputies, a vagrancy charge and a trip back to the line. But Reacher is a big man, and he's in shape. No job, no address, no baggage. Nothing, except bloody-minded curiosity. What are the secrets the locals seem so determined to hide?
Information
Format: Paperback
Pages: 544 pages
Publisher: Transworld Publishers Ltd
Publication Date: 01/04/2009
Category: Crime & mystery
ISBN: 9780553824414
Other Formats
EPUB from £4.99
CD-Audio from £12.65
Free Home Delivery
on all orders
Pick up orders
from local bookshops
Reviews
Showing 1 - 4 of 4 reviews.
Review by reading_fox
16/06/2015
Very average, almost poor for a Jack Reacher novel. The first 9 of these have been thrilling and at times gripping accounts of Jack's investigation of odd happenings he stumbles upon. This however is a co-incidence laden meandering and at times unexplained, contrived and best only mildly entertaining account of Jack in Colorado. The initial premise is good. Jack passes through the township of Hope, and sees that the next town is Despair. Well who wouldn't go and check it out. And then when you are rudely run out of town by the local cops for no reason, it is entirely in Jack's character that he'd hang around for a few days to find out why, and what it is they are hiding.The rest however is just very poor. Jack gets an unlikely instant aid from the Hope police, of whom he only ever meets the one woman. The entire town of Despair is in on the secret which again is just ridiculous. The whole postulated scenario is unbelievable, in its causes and predictable in what passes for twists. Also the bad guys just stand around waiting for Jack to make his next move - unlike any of the generally quite clever bad guys (yep they've all been guys) in the previous books, which is part of what has made them so good. There are supposedly two sub-plots going on, of which only one is ever explained and the other left unresolved. The ending itself is just weak, unlikely, unbelievable in context and not properly resolved. Also annoying is that in the opening lines Reacher states he would regret going to Despair – and yet compared to all of his previous troubles he gets into very little danger or damage at all. And the title refers to nothing at all in the story, unlike all previous novels.Some of the classic Reacher violence and investigation still remains, but not very much. There are a couple of almost compulsory fist fights, which are usually the low points, but because the plotting is so bad, actually are almost the highlights of this book. The usual women interest, although the clichéd 2 hours in his presence and they are ready to rip their clothes off is starting to get a bit monotonously sexist. It's not a dire book by any means. Lee Child knows how to write and pace a story well, and Jack is just such a great character that he is always entertaining to read about. But compared to the previous books this just isn't anywhere near as good.
Review by edwardsgt
16/06/2015
Jack Reacher is walking into a town called Despair in Colorado and they make the mistake of running him out of town as a vagrant. No-one does that to Jack Reacher! As always a fast-paced action story which has the reader keeping turning the pages to find out what happens next and why Despair doesn't welcome visitors and what secret the metal recycling plant is hiding...
Review by infjsarah
16/06/2015
I'm glad this wasn't my first Jack Reacher book as it would have put me off the rest. I just didn't like it much. It was Meh. Too much driving around, too many plots that didn't make much sense - too long.Don't start here for Jack Reacher.
Review by johnny_merc
16/06/2015
This is the second of Child's Jack Reacher novels that I have read, and much like the other, Gone Tomorrow,I thoroughly enjoyed this.Child's pacing of the storytelling balances the need to increase long term tension whilst providing the short-term adrenalin pumping moments real zing.There are a lot of strands to this plot and whilst their are some leaps required from the reader, Child makes it easy to suspend disbelief and creates an enjoyable yarn.More Please!!
Also in the Jack Reacher series | View all