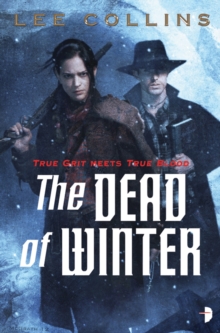 The Dead of Winter
Paperback
Description
Cora and her husband hunt things - things that shouldn't exist.
When the marshal of Leadville, Colorado, comes across a pair of mysterious deaths, he turns to Cora to find the creature responsible, but if Cora is to overcome the unnatural tide threatening to consume the small town, she must first confront her own tragic past as well as her present. File Under: Dark Fantasy [ Winter Chill | Small Town Blues | Dead Reckoning | Sharp Shooter ]
Information
Format: Paperback
Pages: 416 pages
Publisher: Watkins Media
Publication Date: 01/11/2012
Category: Fantasy
ISBN: 9780857662712
Other Formats
eAudiobook MP3 from £13.49
Free Home Delivery
on all orders
Pick up orders
from local bookshops
Reviews
Showing 1 - 2 of 2 reviews.
Review by ladycato
16/06/2015
I received this free Advanced Release Copy through NetGalley. The book is out November 1st.<i>The Dead of Winter</i> bears the pitch line, "True Grit meets True Blood." That's quite apt. Cora and her husband hunt "spooks"--that is, the undead and other nasty critters that crawl out of hell. There aren't too many willing to take on that job in the late 19th-century pioneer west. The book's pace and feel is like that of an urban fantasy, but against a very cold, very dark Colorado winter backdrop. The mixture works incredibly well. I read another ARC (<i>Portlandtown</i> by Rob DeBorde) earlier in the year that tried the same blend and pioneer setting, but felt very disjointed, with too many characters and almost too much crammed in; <i>The Dead of Winter</i> didn't suffer from that problem at all. It stays true to its western roots, with that paranormal touch. As much as I love steampunk, it's good that it's not forced into a book. Sometimes a western should just be a western.Cora is a tough-as-nails heroine. She's quick on the draw and damn good at her job, but at the same time relies heavily on her husband's wisdom and quiet, supportive presence. She also has a problem with alcohol. There is a major subplot involving her husband--I will take care not to spoil it. I caught hints early on and wondered where it was going. The climax relies heavily on this subplot, and handles it quite effectively. There's a lot of action involved, but the psychological repercussions are beautifully handled. The one thing that took away from this was a bit too much chest-thumping on the part of the villain--you know, the whole, 'I am evil and this is my dark plan for you' speech. But as that was probably the weakest element in the book, it's forgivable.Well, I take that back--this does rely on a lot of western cliches. For example, the only women shown are Cora and prostitutes, and the word "whore" feels overused. Even if it draws on western cliches, it still feels unique because of the paranormal elements.<i>The Dead of Winter</i> wasn't one of my very favorite reads of the year, but it's high up there. It's a thoroughly enjoyable book, and well worth seeking out if you love a paranormal western. Also, at the end I was thrilled to find this was a NaNoWriMo book--hooray for NaNo!
Review by lostinalibrary
16/06/2015
Cora Oglesby and her husband, Ben, are bounty hunters in the Old West. But they don't hunt criminals. Their prey are those things that go bump in the night except these creatures not only bump but bite, maim, and eviscerate. The Oglesbys have been hired by the sheriff of Leadville, Colorado to hunt down whatever is killing the local miners. They thought they knew every kind of monster there was but they were so, so wrong.These days vampire stories seem to have become so common and so cliche, they're like one big steaming sparkly pile so I wasn't expecting much from this one. Fortunately, it not only exceeded my expectations (which admittedly were pretty low but that's not a comment on this book) but actually kept me up reading. The Dead of Winter is definitely a giant step up from the rest and much of this is due to the character of Cora. She is coarse, crass, down-and-dirty but it is the sense of some hidden tragedy in her past which makes her such a fascinating heroine. The Dead of Winter is the debut novel of author Lee Collins and a more-than-decent one it is. I will definitely be looking to read the sequel and, trust me, given my normal disdain for all things vampire, this is high praise indeed.
Also by Lee Collins