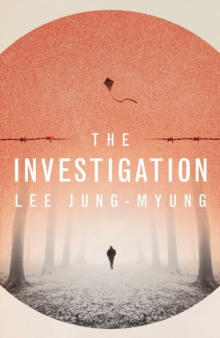 The Investigation
Hardback
Description
Longlisted for the Independent Foreign Fiction PrizeFukuoka Prison, 1944.
Beyond the prison walls the war rages; inside a man is found brutally murdered. Yuichi Watanabe, a young guard with a passion for reading, is ordered to investigate.
The victim, Sugiyama - also a guard - was feared and despised throughout the prison and inquiries have barely begun when a powerful inmate confesses.
But Watanabe is unconvinced; and as he interrogates both the suspect and Yun Dong-ju, a talented Korean poet, he begins to realise that the fearsome guard was not all he appeared to be . . . As Watanabe unravels Sugiyama's final months, he begins to discover what is really going on inside this dark and violent institution, which few inmates survive: a man who will stop at nothing to dig his way to freedom; a governor whose greed knows no limits; a little girl whose kite finds her an unlikely friend. And Yun Dong-ju - the poet whose works hold such beauty they can break the hardest of hearts. As the war moves towards its devastating close and bombs rain down upon the prison, Watanabe realises that he must find a way to protect Yun Dong-ju, no matter what it takes.
This decision will lead the young guard back to the investigation - where he will discover a devastating truth . . . At once a captivating mystery and an epic lament for lost freedom and humanity in the darkest of times, The Investigation - inspired by a true story - is a sweeping, gripping tale perfect for fans of The Shadow of the Wind.
Information
Format: Hardback
Pages: 336 pages
Publisher: Pan Macmillan
Publication Date: 27/03/2014
ISBN: 9780230768710
Free Home Delivery
on all orders
Pick up orders
from local bookshops
Reviews
Showing 1 - 1 of 1 reviews.
Review by atticusfinch1048
16/06/2015
The Investigation – A Beautiful StoryThe Investigation by Jung-Myung Lee and translated from Korean is one of the most beautiful books I have read in a long time. It is a beautiful epic story of freedom and humanity, about survival in war and not everything is as it seems, as the saying goes 'rivers run deep'. The novel is inspired by the life and death of the Korean poet Yun Dong-ju and uses some of his posthumously published work, and a wonderful body of poetry that is used throughout the book. This really teaches you not to judge a book by its cover because on the outside we may look like swans but deep down we are paddling like crazy. The novel is set in Fukuoka Prison. Japan 1944 and outside the prison walls the world is at war which will eventually affect those within the prison walls. Watanabe is a teenage Japanese conscript prison guard with a love of literature has been placed on ward 3 which is full of Korean "criminals" and the bully of a guard Sugiyama who has a penchant for being brutal with the prisoners. It is when Sugiyama is found dead he is tasked with finding who killed him and to take over his censorship duties.His original picture of Sugiyama is of a brutal prison guard and former war hero who enjoyed his role within the prison system. It is when he interviews various prisoners that he starts to build a different picture of the guard. When he interviews Yun Dong-ju he builds a friendship and respect for this Korean poet and it is through his interviews that a new view of Sugiyama emerges.Also at this time the Japanese start to use the Korean prisoners as guinea pigs and Yun Dong-ju is selected to take part. Watanabe is willing and urging Dong-ju to survive until the end of war but see him weaken by the day. Watanabe is also shocked at what is happening in the prison even more so when the warden receives a letter from Manchuria towards the end of the war. Watanabe finally receives all his answers and they are not necessarily the ones he wanted.This is a beautiful and captivating story that engrosses you from page one all the way through to the last page. A book about hope in the darkest times with a lament for lost freedom and humanity while war rages around and death is just something that happens. This book also teaches us that no matter how hard people want to kill literature it will live on in our minds and hearts however hard people try.This is a stunningly beautiful book that is worth every minute of reading and is a shame to finish. The prose is beautiful especially when remembering this was originally in Korean, Jung-Myung Lee has written a brilliant novel.