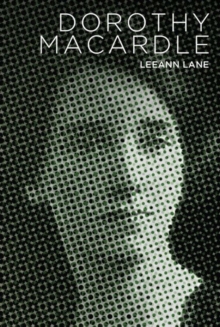 Dorothy Macardle
Paperback / softback
Description
Dorothy Macardle - literary teacher, propagandist journalist, political playwright, gothic fiction novelist - is a multi-faceted woman who has remained too often below the radar of historical recognition.
In Dorothy Macardle Leeann Lane intends to change this. She is most remembered as the author of The Irish Republic (1937): a full-scale history of the revolutionary period from an anti-Treaty perspective commissioned by de Valera.
A bestseller, it became the definitive book of the period fixing Macardle's reputation for too long as merely de Valera's mouthpiece.
Yet, as Leann Lane puts forth, Macardle was much more than its author.
An intellectually strong, politically persuasive and stoically independent woman: Macardle was beholden to no one. From Sinn Fein propagandist to the gradualist republicanism of Fianna Fail to ardent feminist and gothic novelist, Macardle's personal and political evolution is mapped out for us by Lane in the pages of this book.
Exploring her Jail Journal as first-hand source material, the early evolution of Macardle's political thought and action is revealed to us.
The wealth of new archival material in the Bureau of Military History Witness Statements and the Military Service Pension Collection is deeply examined, presenting a who's who of Irish republican history as we learn about the many people and events that influenced Macardle's life.
Central to the story is an analysis of the commitment of Macardle to female activist politics as she moves further from de Valera's reach, often expressed in subterranean or subversive ways.
Macardle's opposition to the position of women in the 1936 Conditions of Employment Act and, most particularly, in the 1937 Constitution was not overt on political platforms but Lane reveals to us that a deep criticism is contained within the pages of her gothic novels published in the 1940s.
Insightful readings of her later writing, including her most influential novels The Uninvited (1942) and The Unforeseen (1946), showcases Macardle as a short story writer, playwright and gothic novelist of republican and feminist intent. This is a rich biographical journey through Dorothy Macardle's writing as propagandist, social commentator, republican and feminist.
It affirms Macardle's place as one of the foremost activist polemicists as the new Irish State unchained itself from its colonial past and asserted an independent political and cultural identity to be reckoned with.
Information
Format: Paperback / softback
Pages: 208 pages, Illustrated
Publisher: University College Dublin Press
Publication Date: 30/06/2019
ISBN: 9781910820414
Free Home Delivery
on all orders
Pick up orders
from local bookshops