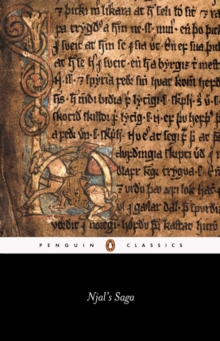 Description
Written in the thirteenth century, Njal's Saga is a story that explores perennial human problems-from failed marriages to divided loyalties, from the law's inability to curb human passions to the terrible consequences when decent men and women are swept up in a tide of violence beyond their control.
It is populated by memorable and complex characters like Gunnar of Hlidarendi, a powerful warrior with an aversion to killing, and the not-so-villainous Mord Valgardsson.
Full of dreams, strange prophecies, violent power struggles, and fragile peace agreements, Njal's Saga tells the compelling story of a fifty-year blood feud that, despite its distance from us in time and place, is driven by passions familiar to us all.
This Penguin Classics edition includes an introduction, chronology, index of characters, plot summary, explanatory notes, maps, and suggestions for further reading.
Information
Format: Paperback
Pages: 432 pages, 4 maps, chronology, family trees, 5 line drawings
Publisher: Penguin Books Ltd
Publication Date: 06/12/2001
Category: Literary essays
ISBN: 9780140447699
Free Home Delivery
on all orders
Pick up orders
from local bookshops
Reviews
Showing 1 - 5 of 6 reviews.
Previous | Next
Review by Nickelini
16/06/2015
I really wanted to like this book. I'd enjoyed Beowulf, and thought that this might be something along the same lines, but cooler and more obscure. Unfortunately, it read as a long series of violent episodes. The first time I tried to read it, I could only get to page 66. I tried again a year later and made it to page 120. I just.could.not.do.it. There was just nothing of interest to break up all the violence. Wish I'd liked it.
Review by Rhinoa
16/06/2015
Arguably the most famous of the Icelandic sagas, this history tells of Njal, his sons, friends and surrounding people. It is from the 13th centuary and covers many topics including feuds, impotence, marriage, law etc. Two of the main characters are Gunnar and Njal. Njal is a well known wise man who is an expert in the laws who many turn to for advice. Gunnar is his close friend, but unfortunately their wives do not get on. Gunnar's wife begins a blood feud with Njal's wife where they keep killing people to try to get their husbands to fall out. It's a bit eye for an eyeand very petty.There are villians and heros and eventually both Gunnar and Njal are killed. Gunnar is killed in battle and Njal is burnt to death in his house with his wife. His sons take their revenge and go after the burners and the feuding continues. Parts of it are an excellent view inside Icelandic life at the time mentioning local food etc. It was also interesting to read about the laws at the Althing.It's not all blood, guts limbs and heads being chopped off. It has a sense of humor and a charm to the story, although it did loose me a little after Njal was killed. I loved reading the tale after not long having visited Iceland, it made me want to go back even more. I hope to read more of the sagas in the future.
Review by eyja
16/06/2015
Of all the sagas, this one has the most political drama and there are parts that I really enjoy in it. Definitely recommend it.
Review by theageofsilt
16/06/2015
I reread this following a trip to Iceland. It is a difficult book to understand in the way the Bible can be difficult -- there's little explanation of motivation and character is developed almost entirely through the action. It is a work that it is sometimes boring and sometimes thrilling. It is set in Iceland around 1000 AD and was written a few hundred years after the events it depicts. It is an interesting insight into a society that tries to deal with the essential violence of human nature. Payment of compensation for a murder or complicated legal proceedings sometimes prevent a cycle of killing and revenge killings. With so much homicide, it's a wonder that Iceland wasn't entirely depopulated.
Review by shanaqui
16/06/2015
I really enjoyed this one. There's some likeable characters -- even from my soft-hearted modern point of view -- who I really got to care about, which isn't always the case with sagas. I was kind of sad when they went out of the saga. The translation is good, clear and easy to read, and there's helpful footnotes, a good introduction, and other helpful supplementary material. As with all sagas, there's an awful lot of names, but it's still pretty easy to follow.<br/><br/>I found some of it amusing in a somewhat macabre way -- especially at the beginning, with Hallgerd's bloodthirsty nature. In the end, the "eye for an eye" mentality of the characters becomes amusing because of the excess of it, to me. Gunnar and Njal are refreshing in their refusal to feud with each other.<br/><br/>A lot of the saga is based on the points of the law, as well as the killing, which is interesting. Someone compared it to a John Grisham book for the Norse, which... well, I can see their point. <br/><br/>ETA: I can confirm from doing my own translations that the Penguin edition has a very good translation: reasonably accurate, and idiomatic while keeping a good flavour of the original style.