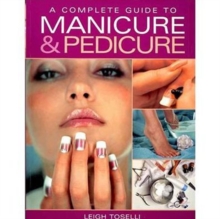 A Complete Guide to Manicure and Pedicure
Paperback / softback
Description
Because they bear the brunt of our contact with the outside world, hands and feet can take quite a battering.
Given their long years of hard service, they ought to be pampered at every opportunity. And yet most women don't dedicate even a fraction of the time looking after their feet and hands as they spend cleansing, toning and moisturising their faces.
Graceful, silky hands and beautiful nails are much-prized physical attributes.
Supple hands and trim, healthy nails speak volumes about our state of health and personal grooming. And new fashion trends have put the focus firmly back on pretty feet. "A Complete Guide to Manicure and Pedicure" takes a practical and visual approach to hand and foot care, with lots of DIY information, tips and practical advice as well as insights from podiatrists, chiropodists, nail technicians, beauty therapists and cosmetic houses.
Information
Format: Paperback / softback
Pages: 128 pages, 177 full-colour photographs & 23 illustrations
Publisher: IMM Lifestyle Books
Publication Date: 28/08/2009
Category: Cosmetics, hair & beauty
ISBN: 9781847735669