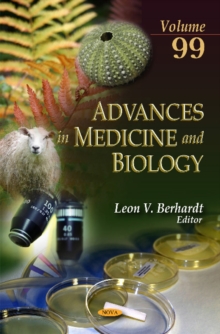 Advances in Medicine & Biology : Volume 99
Hardback
Description
The chapters in this volume present the latest developments in medicine and biology.
Chapter One highlights the potential and limitations of the zebrafish model for studying lipopolysaccharide (LPS)-induced inflammation and endotoxin tolerance (ET).
Chapter Two evaluates the health benefits and risks of shellfish consumption.
Chapter Three provides an overview of Chiari malformations (CMI), discusses the diagnosis and surgical treatment options, and shares the authors' institutional experience with the treatments of CMI.
Chapter Four provides an overview of the current state-of-the-art on the effects of PolyChlorinated Biphenyls (PCBs) exposure during embryonic development and the potential long term effects on resulting offspring.
Chapter Five examines the tissue reaction to acellular implants in acute spinal cord injury.
Chapter Six reviews plantar fibromatosis. The last chapter discusses the optimal breathing technique for relaxation.
Information
Format: Hardback
Pages: 198 pages
Publisher: Nova Science Publishers Inc
Publication Date: 01/05/2016
Category: Scientific, Technical and Medical
ISBN: 9781634850803