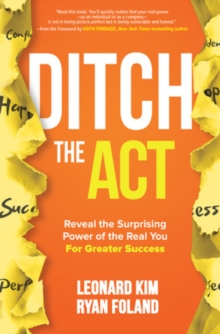 Ditch the Act: Reveal the Surprising Power of the Real You for Greater Success
Paperback / softback
Description
Use your failure, mistakes, and vulnerabilities to fund success-the proven guide to building a powerful personal brand through the fearless admission of just being humanBusiness professionals are finding it harder and harder to break through the noise. The problem is, most of it is just that: noise. What if you could gain more career success, respect, and a powerful digital presence by being your natural, flawed self instead of pretending to be perfect? Ditch the Act takes a strategic approach to this little-known secret to help you build an authentic, long-lasting personal brand.
The authors-both marketing and communications experts-explain why exposure is important and how it cultivates more durable connections than any polished persona can, and they show how to use stories of failure and weakness in ways that build trust and loyalty from large audiences.
Inside, you'll find an actionable, 7-step process for driving brand differentiation and growth.
Actions include: *Crafting a unique bio and creating an "exposure resume" *Writing out stories and thought leadership insights based on the exposure resume*Extracting key content pieces to turn into video scripts for posting, sharing, and embedding in existing content*Fostering camaraderie in new relationshipsPeople are getting weary of-and, frankly, seeing right through-the oversized egos dominating the business world today.
By building a personal brand that is honest and authentic and that reveals personal struggles, you can build stronger, longer-lasting relationships-and achieve greater success.
Information
Format: Paperback / softback
Pages: 336 pages, Illustrations, unspecified
Publisher: McGraw-Hill Education
Publication Date: 27/11/2019
Category: Business & management
ISBN: 9781260454376