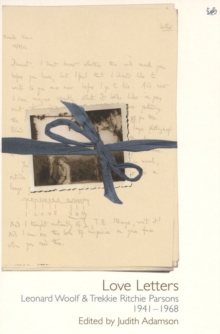 Love Letters : Leonard Woolf and Trekkie Ritchie Parsons
Paperback / softback
Description
It was the middle of the Second World War, and Trekkie, a painter and book illustrator, was married to the publisher Ian Parsons, who later became Leonard's colleague.
Leonard was 61, Trekkie 39. He wanted her to get a divorce and marry him, but instead she persuaded him to move in next door to her in London and spent the weekends with him at Monk's House in Rodmell.
When Ian came back from the war, life became more complex.
Trekkie was a feisty, principled feminist - she had never wanted a husband and now, it seemed, she had two at once.
She spent the weekends with Ian and the week with Leonard: she took holidays with them separately, acted as hostess for them both, and talked to no one about the way they lived.
The arrangement worked smoothly for the next twenty-five years - an inventive and honest solution for a woman who loved two men in different ways at the same time.
When Trekkie and Leonard were not together they talked through the post - a letter scribbled while she cooked dinner could reach him before breakfast the next morning.
Trekkie sealed up their correspondance, and it was only opened after her death. Linked by excerpts from her diary, the letters shine with details of daily life: of gardens and glow-worms, books and plays; of Leonard's publishing and politics; of Trekkie's struggle to balance her professional and personal life.
But above all they are a romance in two voices - his besotted, hers tender and sensible.
This remarkable exchange of letters tells the story of two contrasting personalities, their love for one another and their unusual and creative domestic arrangement.
Information
Format: Paperback / softback
Pages: 336 pages
Publisher: Vintage Publishing
Publication Date: 07/02/2002
Category: Biography: general
ISBN: 9780712664738