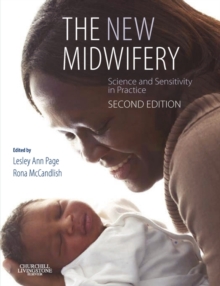 The New Midwifery : Science and Sensitivity in Practice
Paperback / softback
Description
"I still have the confidence of that whole period. And I think that will stay with me for the rest of my life.
Definitely a great sense of triumph really. It's incredible."Being a midwife today requires not only good clinical skills but also a broad understanding of the social and emotional changes a woman goes through before and after birth.
The New Midwifery Second Edition looks at combining scientific knowledge with the more intangible skills needed in sensitive communication to provide the best possible care for the mother and her family. "There was a kind of silence in the relationship, a stillness which was very important. And we'd done all the talking in the build up. So the talking was done. I felt confident that she [the midwife] knew where I was coming from and vice versa.
It was like we'd done all our dress rehearsal - what if, what if. And on the day there was nothing left to say really.
So it just felt very calm, and I think that was the most important thing."The second edition of this celebrated text explores vividly the various skills and approaches that lead to successful midwifery practice and uses care stories to bring these to life. Building on a thorough grounding of theory and research evidence, The New Midwifery will enable all midwives to practise with a more effective range of skills and, as these real-life quotes from mothers bear out, provide unique professional support before, during and after birth. "I think we had a really good relationship actually.
It was more of a friend relationship, but a friend you could trust in - a professional friend you could rely on."Provides a refreshingly new approach to key areas of midwifery practice in a way that brings practice to life. Illustrates and supports the fundamental changes currently taking place in midwifery around the world. Builds on the most up-to-date, evidence-based research to suggest guidelines for best practices. Explores the impact of parenthood and offers strategies for effectively supporting individuals during this period of transition. Includes "care stories" - case studies that highlight positive midwifery care and successful childbirth experiences. Offers contrasting stories from around the world, illustrating how maternity care in industrialized society differs from that in a non-industrial or third world environment. Provides up-to-date research and reference material.
Information
Format: Paperback / softback
Pages: 412 pages, Illustrated
Publisher: Elsevier Health Sciences
Publication Date: 06/10/2006
Category: Gynaecology & obstetrics
ISBN: 9780443100024
Free Home Delivery
on all orders
Pick up orders
from local bookshops