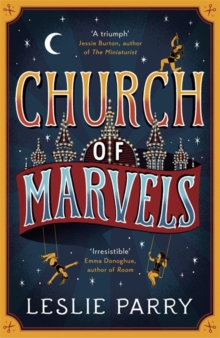 Church of Marvels
Hardback
Description
'A SKILLFUL TRIUMPH' Jessie Burton, bestselling author of The Miniaturist - 'IRRESISTIBLE' Emma Donoghue, bestselling author of RoomNew York, 1895.
It's late on a warm city night when Sylvan Threadgill, a young night soiler who cleans out the privies behind the tenement houses, pulls a terrible secret out from the filthy hollows: an abandoned newborn baby.
An orphan himself, Sylvan was raised by a kindly Italian family and can't bring himself to leave the baby in the slop.
He tucks her into his chest, resolving to find out where she belongs.
Odile Church is the girl-on-the-wheel, a second-fiddle act in a show that has long since lost its magic.
Odile and her sister Belle were raised in the curtained halls of their mother's spectacular Coney Island sideshow: The Church of Marvels.
Belle was always the star-the sword swallower-light, nimble, a true human marvel.
But now the sideshow has burnt to the ground, their mother dead in the ashes, and Belle has escaped to the city. Alphie wakes up groggy and confused in Blackwell's Lunatic Asylum.
The last thing she remembers is a dark stain on the floor, her mother-in-law screaming.
She had once walked the streets as an escort and a penny-Rembrandt, cleaning up men after their drunken brawls.
Now she is married; a lady in a reputable home. She is sure that her imprisonment is a ruse by her husband's vile mother.
But then a young woman is committed alongside her, and when she coughs up a pair of scissors from the depths of her agile throat, Alphie knows she harbors a dangerous secret that will alter the course of both of their lives...
On a single night, these strangers' lives will become irrevocably entwined, as secrets come to light and outsiders struggle for acceptance.
From the Coney Island seashore to the tenement-studded streets of the Lower East Side, a spectacular sideshow to a desolate asylum, Leslie Parry makes turn-of-the-century New York feel alive, vivid, and magical in this luminous debut.
In prose as magnetic and lucid as it is detailed, she offers a richly atmospheric vision of the past marked by astonishing feats of narrative that will leave you breathless.
Information
Format: Hardback
Pages: 320 pages
Publisher: Hodder & Stoughton General Division
Publication Date: 04/06/2015
Category: Historical fiction
ISBN: 9781473605626
Other Formats
Paperback from £7.85
EPUB from £5.99
Free Home Delivery
on all orders
Pick up orders
from local bookshops
Reviews
Showing 1 - 3 of 3 reviews.
Review by shelleyraec
27/08/2015
Church of Marvels is an atmospheric and haunting tale set in New York during the late 1800's that unfolds from the perspectives of four compelling characters, whose lives eventually converge.Leaving behind her twin sister, Isabelle Church fled to Manhattan in the wake of the Coney Island fire that killed her mother and destroyed the Church of Marvels, the carny show in which Isabelle starred. No one knows why she left, where she is, or what secrets she keeps."I haven't been able to speak since I was seventeen years old. Some people believed that because of this I'd be able to keep a secret. They believed I could hear all manners of tales and confessions and repeat nothing. Perhaps they believe that if I cannot speak, I cannot listen or remember or even think for myself – that I am, in essence, invisible. That I will stay silent forever. I'm afraid they are mistaken."With her mother dead, and her twin sister gone, only Odile Church remains at Coney Island, the spinning girl on the Wheel of Death. When a letter from her sister finally arrives she heads to Manhattan, determined to find her."At first glance the twins looked alike - they were both freckled and hazel eyed, with thick blonde hair and the snub nose of a second-rate chorus girl. But that was where the similarities ended, Unlike Belle, with her lithe and pliant acrobat's body, Odile had a permanent crook in her neck and a slight curve to her spine."Sylvan Threadgill is nineteen, abandoned as a young child, he makes his living as a night-soiler, and boxes for a few extra pennies. One night he finds a baby girl half drowned in the effluent and rescues her."Under their breaths they called him Dogboy. He'd been puzzled over and picked apart all of his life - the skin of a Gypsy, the hair of a Negro, the build of a German, the nose of a Jew. he didn't belong to anyone. They started at him with a kind of terrified wonder, as though he was a curiosity in a dime museum. One of his eyes was brown, so dark it nearly swallowed the pupil, and the other pale, aqueous blue."When Alphie Leonetti, once a 'penny rembrandt', is first introduced she is waiting for her husband, Anthony, to rescue her from the notorious Blackwell's Asylum in the East River, the last thing she remembers is an argument with her disapproving mother in law. Desperate to escape she befriends a mute inmate with startling skills."Alphie curled up and covered her face with her hair, then cried her voice away. She couldn't bear it; she'd come so far from her days a s a girl on the street, a bony runaway with shoes made from paper, waiting there on the corner with her paint stand and jars. And here she was, through some cruel reversal, sent back to the anonymous hive, trapped in a room full of women who were not missed and not wanted, who would wear the same dress every day until it disintegrated on their hungry frames-a dress she too wore, formless and smelling of some previous disease..."With evocative phrasing Parry creates memorable characters and vivid settings, from the seedy shores of Coney Island to the dark, narrow streets of inner Manhattan, and the bleak horror of the asylum marooned in the middle of the East River.A novel that demands attention, the lyrical prose of Church of Marvels tells a complex, suspenseful mystery that sometimes appears scattered, but is eventually brought to a stunning resolution."We can be a weary, cynical lot – we grow old and see only what suits us, and what is marvelous can often pass us by. A kitchen knife. A bulb of glass. A human body. That something so common should be so surprising – why, we forget it. We take it for granted. We assume that our sight is reliable, that our deeds are straightforward, that our words have one meaning. But life is uncommon and strange; it is full of intricacies and odd, confounding turns."
Review by Kris_Anderson
27/08/2015
Church of Marvels by Leslie Parry is set in New York in 1895. Sylvan Threadgill, a night soil cleaner (cleaned out the outdoor toilets), finds a baby girl. He takes it home to care for it and find out who the baby belongs to. Isabelle "Belle" Church has fled from her home on Coney Island after the Church of Marvels burned down. Her mother, Friendship Church, and another performer died in the fire. Belle was the main attraction in the show. She is a contortionist and can swallow a number of objects. Her twin sister, Odile, wants to find her sister. She misses her and takes off to Manhattan to find her.Alphie was married to Anthony until one morning she wakes up in an insane asylum. Alphie keeps waiting for Anthony to show up and rescue her. When he does not show up, Alphie sets out to escape and gets help from Belle. Belle ended up in the asylum the same night as Alphie. At first Alphie does not remember how she ended up there and her story (along with Belle's) is slowly revealed throughout the book.Odile starts looking for her sister and runs into Sylvan Threadgill. Sylvan helps Odile look for Belle. The Church of Marvels is a very strange book. I do not want to give anything away (spoilers), so I have tried to keep my summary brief (for me at least). We get to find out about life for the people that are different in 1895 New York (people born with deformities, work as actors, work in circus acts, girls that end up unwed and pregnant). I give Church of Marvels 2.5 out of 5 stars. I just did not enjoy this book. It lacks a nice flow. It is disjointed and confusing. Everything makes sense at the end of the book, but it is a long trip to get to that point.I received a complimentary copy of Church of Marvels from NetGalley in exchange for an honest review. The review and opinions expressed are my own.
Review by porch_reader
27/08/2015
I picked this up at Prairie Lights after reading some intriguing early reviews of it, and I was not disappointed. Set in 1895 in New York, Church of Marvels tells the story of Belle, a contortionist and knife swallower in her family's show at the Church of Marvels on Coney Island. But after the Church of Marvels burns down, she disappears, leaving her sister Odile behind. Meanwhile, a man cleaning privies behind tenements in New York City rescues an abandoned baby, and a woman wakes up disoriented in Blackwell's Lunatic Asylum. These stories are told in alternating fashion until their paths begin to cross. Secrets are gradually, but steadily revealed, and that was one thing that I liked about this book. Just when I thought that all was resolved, another twist was revealed, right up through the epilogue. This is a well-crafted story. Although it is Parry's debut, I felt as though I was in the hands of a pro. Perhaps because of the subject matter, it reminded me a bit of [The Night Circus], but it also has elements of a good mystery. I'm glad I read this one!
Also by Leslie Parry