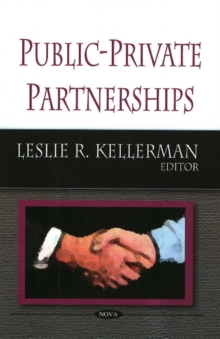 Public-Private Partnerships
Paperback / softback
Description
Growing demands on the transportation system and constraints on public resources have led to calls for more private sector involvement in the provision of highway and transit infrastructure through what are known as "public-private partnerships" (PPPs).
A PPP, broadly defined, is any arrangement whereby the private sector assumes more responsibility than is traditional for infrastructure planning, financing, design, construction, operation, and maintenance.
This book describes the wide variety of public-private partnerships in highways and transit, but focuses on the two types of highway PPPs that are generating the most debate: the leasing by the public sector to the private sector of existing infrastructure; and the building, leasing, and owning of new infrastructure by private entities.
PPP proponents argue that, in addition to being the best hope for injecting additional resources into the surface freight and passenger transportation systems for upkeep and expansion, private sector involvement potentially reduces costs, project delivery time, and public sector risk, and may also improve project selection and project quality.
Detractors, on the other hand, argue that the potential for PPPs is limited, and that, unless carefully regulated, PPPs will disrupt the operation of the surface transportation network, increase driving and other costs for the travelling public, and subvert the public planning process.
Some of the specific issues raised in highway operation and costs include the effects of PPPs on trucking, low-income households, and traffic diversion.
Issues raised in transportation planning include non-compete provisions in PPP agreements, unsolicited proposals, lease duration, and foreign control of transportation assets.
On the question of new resources, the evidence suggests that there is significant private funding available for investment in surface transportation infrastructure, but that it is unlikely to amount to more than 10% of the ongoing needs of highways over the next 20 years or so, if that, and probably a much smaller share of transit needs.
With competing demands for public funds, there is also a concern that private funding will substitute for public resources with no net gain in transportation infrastructure.
The effect of PPPs on the planning and operation of the transportation system is a more open question because of the numerous forms they can take, and because they are dependent on the detailed agreements negotiated between the public and private partners.
For this reason, some have suggested that the federal government needs to more systematically identify and evaluate the public interest, particularly the national public interest, in projects that employ a PPP.
Three broad policy options Congress might consider in how to deal with PPPs in federal transportation programs and regulations are discussed in this book.
The first option is to continue with the current policy of incremental changes and experimentation in program incentives and regulation.
Second is to actively encourage PPPs with program incentives, but with relatively tight regulatory controls.
Third is to aggressively encourage the use of PPPs through program incentives and limited, if any, regulation.
Information
Format: Paperback / softback
Pages: 152 pages, tables & charts
Publisher: Nova Science Publishers Inc
Publication Date: 01/01/2009
Category: Transport planning & policy
ISBN: 9781606923580
Free Home Delivery
on all orders
Pick up orders
from local bookshops