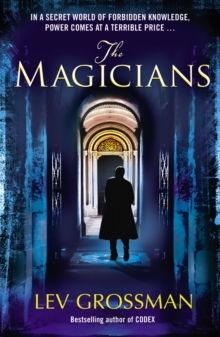 The Magicians : (Book 1)
Paperback
Description
NOW A MAJOR TV SERIES In a secret world of forbidden knowledge, power comes at a terrible price ... Quentin Coldwater's life is changed forever by an apparently chance encounter: when he turns up for his entrance interview to Princeton he finds his interviewer dead - but a strange envelope bearing Quentin's name leads him down a very different path to any he'd ever imagined.
The envelope, and the mysterious manuscript it contains, leads to a secret world of obsession and privilege, a world of freedom and power and, for a while, it's a world that seems to answer all Quentin's desires.
But the idyll cannot last - and when it's finally shattered, Quentin is drawn into something darker and far more dangerous than anything he could ever have expected ...
Information
Format: Paperback
Pages: 496 pages
Publisher: Cornerstone
Publication Date: 01/09/2009
ISBN: 9780099534440
Other Formats
EPUB from £3.99
eAudiobook MP3 from £12.00
Free Home Delivery
on all orders
Pick up orders
from local bookshops
Reviews
Showing 1 - 5 of 13 reviews.
Previous | Next
Review by theforestofbooks
16/06/2015
My last book of the year, and as it turns out, my favourite book. The Magician has all the elements I love in a story, a book within a book, hidden world's layered beyond our own, some just a step away and others layered deeper, and the idea that magic is still possible, but only to a chosen few. Quentin Coldwater is one of the few and his disillusioned view of life is soon changed when he discovers magic exists and can be learnt. The first half of the book deals largely with Quentin learning magic, moving through life, making friends, finding out who he is, all the usual college practices but set against the backdrop of magic. It could be argued that very little actually happens through this part of the book. There is a hint of something darker beyond what Quentin knows but its suggestion is subtle. It's not till the latter half of the book where the adventure kicks in, and we move from the subtle to the fall blown magical kingdom - a pastiche of Narnia. Even through the quieter parts of the book the story never falters. The quality of the writing is superb - paced perfectly - and The Magician fast becomes an absorbing read. Saying this though, it is difficult to know whether I'd recommend this book, I think some people with love the story and others may well hate it. Fortunately for me, I loved it.
Review by KayDekker
16/06/2015
I haven't read a book where I loathed *all* the characters so much in ages. They certainly didn't deserve the relatively upbeat ending.
Review by wyvernfriend
16/06/2015
A story of some teenagers, finished with school and heading in to college who find themselves in a semi-hidden college that teaches the brightest and the best how to use magic. While bright they're still teenages and still college students and still capable of terrible stupidity and thoughtless acts. Their adventures in college are eventful enough but their adventures afterwards take them to a land of story and myth and put their lives in danger.And I really didn't care. Oh the story wasn't bad and I was quite interested in the reading to see what happened but most of the secondary characters blurred and weren't really all that believable. The ending was also a bit of a letdown. While Grossman had magicians in his world he had no purpose for them.
Review by BionerdAZ
16/06/2015
Okay so where do I start? The summary sounded wonderful, and in it's essence, yes this book contained fantasy, and college that educates qualified students on the arcane, and not the fluffy bunny, Gia, rah, rah stuff either (and I LIKE fluffy bunnies BTW,), but the forces you would think someone like Gandalf would know an awful lot about. Oh, can't forget there are also parallel worlds that can be traversed through fountains, and was once traversed by some English kids before this new group in tales which seems quite a lot like the Tales of Narnia (but called Fillory). So this new group has its own tale in Fillory and the outcome is not so nice. That's my summary, now on to what I thought about the book...I have rarely read a book in which the characters are so incredibly depressed, self sabotaging, drug and alcohol infested, self-absorbed, whiners in one work of fiction that suck out any bit of enjoyment in their vicinity and anyone who dare reads this book, I'm not sure if there is enough Prozac in the world to cheer them up...ever. When a bit joy and fancy in the book managed to peek out of the greyness, Mr. Grossman managed to throw a huge cold glass of water on this bit of fancy, making you feel dirty for even thinking about enjoying that little bit of happiness that this book could have offered. I really wanted to enjoy this book, there are some interesting characters, and the story was interesting (though at times the book had a tendency to drag and not go anywhere), however, I could not get over the depressing bleakness of this book. Fantasy is one of my favourite escapes, and while, yes, it allowed me to escape, it was to a world that was so much worse than the one I currently reside, that why would I EVER want to go the the world Mr. Grossman has created?
Review by Electablue
16/06/2015
I was looking forward to this, partially because of its promotion as "Harry Potter for adults," but didn't find it as riveting as I had hoped. There was to much borrowed from Harry Potter and the Chronicles of Narnia, but yet it didn't have the level of detail that those books did. What it did have was bad language and adult situations and lots of drug use. It often felt like only a small part of the story was told and I wanted more details. Overall, it was worth reading and I want to read the sequel that is coming out today, but I don't feel I need to rush out and get it this minute.