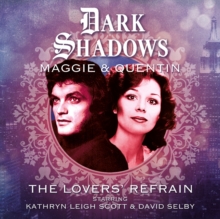 Dark Shadows - Maggie & Quentin: The Lovers' Refrain
CD-Audio
Description
After many years of knowing each other, Quentin Collins and Maggie Evans have fallen in love and are looking forward to spending the rest of their lives together.
But no matter how hard they try, they can't escape their past.
For at Collinwood, there are always ghosts hiding in the shadows.
The Girl Beneath The Water by Lila Whelan. As Maggie Collins welcomes her children home to Collinwood to celebrate her husband Quentin's 65th birthday, she is blissfully unaware of the cruel magic at work underpinning the heartwarming scene.
In a battle for reality, Maggie and Quentin must come together to protect their children against an ancient magical force that knows no mercy.
But in doing so, they risk losing everything they love. For who can be trusted when you can't trust yourself?
The Sand That Speaks His Name by Mark Thomas Passmore. A mistake from Quentin's past casts a dark shadow over his and Maggie's weekend getaway in New York City.
A Golem is loose, threatening innocents and only Quentin knows how to stop it.
But first, he must learn how and why the creature has come back to life, a task which takes Maggie and Quentin on a quest through the hidden supernatural network of the Big Apple.
Will Maggie's foray into the perilous life Quentin used to live drive an irreparable wedge in their relationship?
Will the rampaging Golem give them the chance to find out?
The Hollow Winds That Beckon by Cody Schell. A sunny day of fishing is interrupted by dark clouds as Quentin and Maggie find themselves swept up in events beyond their understanding.
They'll do their best to escape a mysterious island, even if their failure means joining those who have failed before them - the ghosts on the waves.
The Paper To The Flame by Alan Flanagan. When a group of Windcliff patients start chanting a centuries-old song, Maggie and Quentin investigate - and find themselves drawn to an abandoned town with haunted streets and a fire burning deep below.
There they must face an enemy far stronger, and far more unhinged, than they could ever have imagined- one with a grudge that stretches into both their pasts, and will have a profound effect on both their futures.
CAST: Kathryn Leigh Scott (Maggie Evans), David Selby (Quentin Collins), Clark Alexander (Ronan Collins/ Tommy Lee Woods/ Mathias Woods/ Train Conductor), Johnny Myers (Mr Brewer/ The Librarian/ McCray/ Lucien Cray), Brendan O'Rourke (Doctor Hilary Cooper), Zara Symes (Emily Collins/ Angie/ Sally Evans), Daisy Torme (Ms Bailey/ Jacquelope).
Information
Format:CD-Audio
Publisher:Big Finish Productions Ltd
Publication Date:31/07/2018
Category:
ISBN:9781787035355