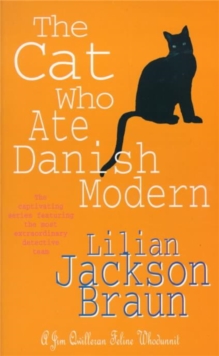 The Cat Who Ate Danish Modern (the Cat Who... Mysteries, Book 2) : A captivating feline mystery for cat lovers everywhere
Paperback
Description
Jim Qwilleran is not exactly overwhelmed by his new assignment for the Daily Fluxion.
Interior design has never been one of his specialities and now he's supposed to turn out an entire magazine on the same subject. But the first issue of Gracious Abodes is barely off the presses when Qwilleran finds himself back on more familiar territory - the exclusive residence featured on the cover has been burglarised and the lady of the house found dead...Now Qwilleran, with the help of Koko and Yum Yum, the brilliant Siamese cats, have their respective moustache and whiskers twitching, and when Koko starts pawing clues in the dictionary and sniffing designer furniture, Qwilleran finds himself doing a feature on a very clever murderer.
Information
Format: Paperback
Pages: 224 pages, Not applicable
Publisher: Headline Publishing Group
Publication Date: 04/05/1995
Category: Crime & mystery
ISBN: 9780747250357
Free Home Delivery
on all orders
Pick up orders
from local bookshops
Reviews
Showing 1 - 3 of 3 reviews.
Review by Fantasma
16/06/2015
Here we go following Qwill and Koko and their adventures, and they solve another mistery :)As in the 1st book, there's no bloody details or forensic stuff, and it's nice to just have a book where you learn a lot about Siamese cats (specially if you love cats...) while the 2 main caracters try to solve a crime. I felt, as in the 1st book, that the plot is a little thin/weak, but we aren't suposed to be expecting a great work of literature, just a cozy reading!I'm anxious for the 3rd book where we're going to know more about Yum Yum!
Review by reading_fox
16/06/2015
The continuing travails of Jim Qwilleran with the silly name, ex-star reporter, now feature writer for a local rag. Fpr some unexplained reason following the death of the building's owner he has managed to stay in residence for some time, but finally logic has prevailed and it is time for him and Koko to move. I already get the feeling that Jim's hunt for a permenant abode, and women, will be a continuing theme throughout this series. Jim also recieves a new commission instead of Art he will now be writing a series of articles for a weekly suppliment, on interior design. Once again he gets to wander around town, meeting new faces in the competitive interior design business, designers, artists and customers. Discussing his 'discoveries' with his pals in the Press Club bar. Once of thes new aquiantances rather grandly loans him a spare appartment! And he soon meets some charming ladies as well. However when incident follows his first few reports on the designs of houses Jim begins to find it hard to get permission to write about the others, and the whole paper as well as his job is in jepordy. However a new game with Koko leads to some surprisingly clues.Irritating in a few places this is a well constructed mystery. Particularly annoying is Koko's game as the words chosen don't seem likely to be ajoining dictionary words. The age of the books quickly shows with the behavior of his dates, but that asside it is a plesant hour or twos read. There aren't many clues given to help the reader guess the solution, but a ot of red herrings!
Review by riverwillow
16/06/2015
A fast and fairly inconsequential read. The author clearly loves Siamese cats and Koko is quite a character, but the books haven't aged well. I've got one of the other books in this series in my tbr pile but once I've read that I'm probably done with this series as its just a bit too light and fluffy for me.