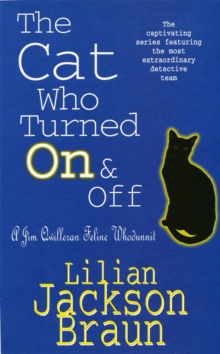 The Cat Who Turned on & off (the Cat Who... Mysteries, Book 3) : A delightful feline crime novel for cat lovers everywhere
Paperback
Description
Jim Qwilleran's latest commission is a piece on Junktown - a ghetto of antique dealers and collectors living in genteel decay.
Enchanted by Junktown and its delightfully bohemian inhabitants, Qwill finds himself digs in the area, renting two rooms to share with his sleuthing Siamese companions Koko and Yum Yum.
When his landlord C.C. Cobb, one of Junktown's leading citizens, falls mysteriously to his death, Qwill's famous whiskers begin to twitch.
It's only when Koko develops a passion for tape-recorders, to rival even that of his journalist mentor, that the vital clues begin to drop into place...
Information
Format: Paperback
Pages: 192 pages, Illustrations
Publisher: Headline Publishing Group
Publication Date: 01/05/1991
Category: Crime & mystery
ISBN: 9780747233244
Free Home Delivery
on all orders
Pick up orders
from local bookshops
Reviews
Showing 1 - 3 of 3 reviews.
Review by reading_fox
16/06/2015
More of the same really. Jim has been stood up for the Press Christmas Eve party and is once again living in a hotel looking for decent, cheap, digs and a new women. The paper witht eh stupid name is holding a competition with money prizes for the journalists who write the best christmas feature. Jim ends up living in (again a repetative plot device only three books into the series) Junktown, that area of town housing the antique dealers. Here he meets a wide range of women (to choose from) and a few 'interesting' characters, and gets to learn how the dealers obtain their items. He quickly learns that the 'best' dealer in the nieghbourhood recently suffered a fatal accident and his moustache begins to quiver with the prospect of potential crime to solve. And with Koko and Yumyum stalking throught he rented rooms at will, Jim as usual has more clues and hunches than actual evidence. The red herring count is lower than before, and the women opportunities higher.Another cosy mystery that hits all the basic spots without being anything special. Fortunetly koko has abandoned the annoying dictionary game.
Review by riverwillow
16/06/2015
Much more enjoyable that the first or second books. I loved the idea of Junktown and all the antique dealers and all the interesting characters that inhabit. The mystery was quite interesting too and Koko wasn't as annoying this time - maybe the addition of Yum Yum helps.
Review by wyvernfriend
16/06/2015
Murder among antique dealers and much shenanigans ensue when Jim moves in.