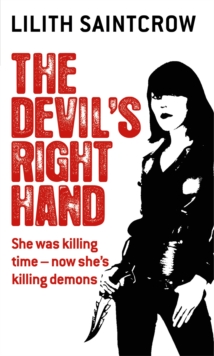 The Devil's Right Hand : The Dante Valentine Novels: Book Three
Paperback
Description
Meet Dante Valentine. Necromance. Bounty Hunter. Dante Valentine is short on sleep and far from happy.She's just signed away seven years of her life - and her partner's - to hunt down four rogue demons that have escaped from hell.
Maybe she'll find them. Maybe they'll find her. Nobody said it was easy being the Devil's right hand.Dante Valentine is licensed to raise the dead: a fully accredited Necromance in an world where a range of psionic Talents have been harnessed to help mankind.
Not that mankind always appreciates this. She's one of the best in her field to survive training, and has an emerald embedded in her forehead to prove it.
She's also dangerous and prickly with a suicidal streak.
Who better to make a contract with the Devil - but what will happen when the deal turns sour and all hell breaks loose?
Information
Format: Paperback
Pages: 432 pages
Publisher: Little, Brown Book Group
Publication Date: 01/11/2007
Category: Fantasy
ISBN: 9781841496733
Free Home Delivery
on all orders
Pick up orders
from local bookshops
Reviews
Showing 1 - 5 of 5 reviews.
Review by lewispike
16/06/2015
The continuing story of Dante Valentine, Japherimal and the Devil.Lucifer demands a meeting with Dante, hires her as a replacement "Right Hand" and asks her to hunt down 4 demons who have fled hell. Japh does some of the negotiations and that's really where it all starts going wrong...Japh goes back to Hell with Lucifer, sending Dante home. Someone tries to assassinate Dante by crashing a hover full of reactive paint into her house and then blowing it up. Dante flees, but the seeds of doubt are (pretty reasonably) sewn.The situation continues to be ambiguous, until Japh reveals just how much he's been humouring Dante, and he starts treating her as a chattel. She is not happy at all, feeling her trust has been violated - a situation that I whole heartedly agree with her assessment of.She does a runner when she can, finds out something that approximates to the truth and feels relieved when Japh turns up and rescues her from Lucifer. She decides that she loves him enough to forgive him - he asks her to help him change and understand her better.There's a lot of action, a lot of intrigue, quite a lot about the world in which they live (a lot of action in Freetowns), but at heart this is a book about a relationship with two people that don't understand each other, and seem destined to continue down that route. It's well written and engaging on all levels.One world of caution - having read three of these on the trot, they're intense enough I need a break before I tackle the last two. I feel like I've been throw the ringer with Dante and I need a bit of a break, even if she won't get one - this is really a compliment to the author for pulling me in so much.
Review by Kace
16/06/2015
I guess this book in the series was okay....I'm a little put off by the writing now, the constant repeating of thought and dialogue is annoying. The stories are just "eh" for me right now, but I'll finish them out.
Review by libgirl69
16/06/2015
Bit of a disappointment. Maybe because I picked this series up again after a long break but the main character just came across as whiney, the plot was disjointed and there just didn't seem to be a proper middle and ending. Started off good enough but too much 'wibbly wobbly about Jeph, magi's and Eve.'
Review by fireweaver
16/06/2015
for anyone looking to get into a tough, gritty sort of urban fantasy - don't start here. go back to book one. saintcrow is name-dropping from the previous 2 books in the set, but at this point it's gotten dense enough already that the action (and maybe more importantly, the INTERactions between people) can't be re-capped in a quick one page summary, so new readers will be somewhat lost.<br/><br/>dante valentine has several screws loose. a survivor of both childhood abandonment and a brutally sadistic prep school for those with psychic &amp; magical talent, girl's got some major trust issues. we spend a lot of time in her head here, agonizing with her over the loyalty of her demon boyfriend who's just negotiated a contract that has her working for lucifer himself for the next seven years. as other reviewers have remarked, this constant anguish starts to get a little old in short order, but it is refreshingly *real*. for those of us who've complained about the mary-sue-ism and increasingly godlike powers of various other paranormal chicks (laurell hamilton, i'm looking at you here), this is a nice change. our heroine is in over her head here, interacting with malevolent forces that could destroy her with a glance, and she doesn't escape from these things unscathed. the suspense is real and engaging - you don't have that automatic assurance that all will be neat &amp; healthy at the end.<br/><br/>this novel, much like the second one, seems to be transitional, moving from the powerhouse first into a more series-adventure setup. i'm intersted, i'm hooked, and i'll be reading on to see if it starts to hit its stride in the next ones, but i do prefer things to be more "contained" (read: a complete story) in each individual book.
Review by Illise_Montoya
16/06/2015
I'm coming back to this review after having burned through the entire Dante Valentine series in just a few short weeks. The first thing I can say is that I liked this installment's pacing better than the previous book, Dead Man Rising. Initially I had fears the characters were going to turn into a Mary-Sue/Gary-Stu pair, only to be pleasantly surprised by the immense complexity of their relationship.<br/><br/>The Devil's Right Hand resumes the story of Dante Valentine some years after her last adventure. She and Tierce Japhrimel, her Fallen demon lover, are hidden away in Toscano country (I guess what Tuscany, Italy is supposed to be called in 600 years?) She's been away from Saint City for years, and only occasionally talks to her best friend Gabe over the phone. Japh disappears one night and returns, informing Dante that they are being summoned by Lucifer. When explained they have no choice, our heroine goes with her lover to see the Devil, and it is there that Japhrimel bargains for Dante to become Lucifer's new Right Hand (basically his enforcer) in exchange for her guaranteed safety.<br/><br/>Then of course, SNAFU.<br/><br/>The story pretty much takes off from there, with Dante forced to keep running and fighting for her life with little to no reprieve. The fights were intense, the stakes were high, and the tension maintained--but then again, I never doubted Saintcrow's ability to write action. What had me worried was this strange and seemingly out of place paranormal romance between Danny and Japh. The author even admits, in her appendix in the DV anthology, that Japhrimel was only supposed to be in the first book. <br/><br/>Her change of heart felt like a risk to me, but a compelling one, and in the end, I was glad she took it. Dante and Japhrimel's relationship explores deep and important themes like faith, the essence of truth, and devotion in ways that I think only they could. How many PNR books have you read where a human and inhuman being somehow implicitly understand each other, or their differences made only as a brief obstacle? Dante's humanity is constantly at odds with Japhrimel's inhumanity (not to be confused with cruelty so much as a completely alien way of viewing such basic concepts as what constitutes a lie.) There is also a constant power struggle between the two as they seem to be ever at odds, goal-wise, despite their sincere love for one another.<br/><br/>In summary, this book is awesome and might be my favorite in the series.
Also in the Dante Valentine Novels series | View all