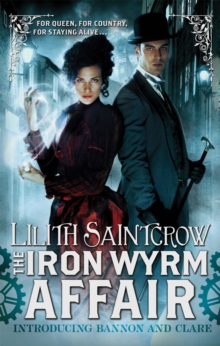 The Iron Wyrm Affair
Paperback
Description
The game is afoot! London's geniuses are being picked off by a vicious killer, and Emma Bannon, a sorceress in the service of the Empire, must protect the next target, Archibald Clare.
Unfortunately he's more interested in solving the mystery of the murders than staying alive ...In a world where illogical magic has turned the Industrial Revolution on its head, Bannon and Clare will face dark sorcery, cannon fire, high treason and the vexing problem of reliably finding hansom cabs in the city.
Information
Format: Paperback
Pages: 336 pages
Publisher: Little, Brown Book Group
Publication Date: 31/07/2012
Category: Fantasy
ISBN: 9780356500928
Free Home Delivery
on all orders
Pick up orders
from local bookshops
Reviews
Showing 1 - 5 of 6 reviews.
Previous | Next
Review by Mardel
16/06/2015
I absolutely love reading a brand new book in a brand new series. I rarely ask for books from The Library Thing, unless I really, really want one, but I saw this, put in for it, and then forgot I put in for it. Then it came in the mail - unfortunately it didn't come in time for me to post about it before the release date, but it's close. The Iron Wyrm Affair is one of Lilith Saintcrow's newest novels, and it is unlike anything she's ever done before. Although - I know she's written some paranormal romance that I haven't read (the Watcher series- I think they're romance, anyway). I have read her two urban fantasy series and they are dark urban fantasy, both of which I enjoyed very much. If you're looking for something like that, you're not going to find it here. However, this is a very well written steampunk novel. There's magic, clockwork horses, altered people, Victorian setting and dialogue...Saintcrow has done a wonderful job of writing something completely different.The Iron Wyrm Affair is the first of the Bannon and Clare series. Bannon is a sorceress, a very powerful one. Clare is a mentath - a man who MUST use his brain to solve patterns, problems, etc. or his brain will go mad. They live in an alternate historical London - it's actually called Londinium. In this version of history - there are sorcerers, prime (the most powerful of sorcerers) witches, gryffons, etc. It's a very rich world. As the story unfolds, you learn a bit more about the world and it's history.Mentaths and sorcerers have been found murdered and Bannon is in charge of not only keeping Clare alive, but finding out just what the threat is, and who the real threat is ultimately for.Lilith Saintcrow has once again delivered a novel that is full of plot, believable and fitting dialogue, rich environments (not $$ rich, rich in atmosphere) and mysterious pasts of characters. There is plenty of action, and just the barest tease of relationships. There is danger and twisty plots. A very enjoyable book - and I am looking forward - very much - to the next novel in the series.
Review by Capnrandm
16/06/2015
Review courtesy of All Things Urban Fantasy.allthingsuf.comTHE IRON WORM AFFAIR is one of those books that plays vividly across the mind's eye, unfolding like a movie in all of it's fantastic and creepy detail. Clockwork horses, flying carriages, gangs of flashboys with their augmented limbs, stilted mentaths using science to impose order on the world around them even as sorcerors defy all natural laws. Rather than adding fantastical and steampunk elements to familiar history, Saintcrow adds a few drops of the familiar into her own witch's brew of a world. The tight restraint of her characters isn't only due to Victorian sensibilities, but also the physics that governs magic and logic in their reality. Saintcrow has created an ambitious new world with the Bannon & Clare series, one that I cannot wait to revisit.The prologue from Archibald Clare's perspective was arresting, his visual organization of the world around him made me feel as if I could see it through his eyes. This cinematic introduction to THE IRON WYRM AFFAIR had me excited to explore their world, and I was almost disappointed to revert to the more mundane narration of Emma Bannon. I needn't have worried, however, as Bannon and Clare pass point of view back and forth between them for the length of the story. I'm rarely willing to share the narrative spotlight with a non-romantic character, but Clare's meticulous mind and touchingly awkward affections for his colleagues completely won me over. Also, the mentath's sharp observation and deductive reasoning filled in gaps that the reticent Emma and Mikal left blank.Bannon is an almost archetypal Saintcrow heroine. Dark, dedicated, sparking and crackling with magic and bruised by a traumatic past. The violence that brought her and Mikal together is also the same thing keeping them apart, and I liked that there was more than simple class-conscious stubbornness stretching out the romance. Of course, all of THE IRON WYRM AFFAIR's characters are still a bit remote. With their fantastic abilities and passionate loyalties, I found them intriguing but not particularly human.This didn't impact my emotional investment in the story, however, but rather left me hungry for more details of their intricate, mysterious inner lives. The relationship between mentaths and sorcerors was very well crafted and fascinating in its own right, but when coupled with with epic characters and a hint of romance, THE IRON WYRM AFFAIR has a lot to offer fans of both steampunk and urban fantasy.Sexual Content: References to sex.
Review by kcaroth1
16/06/2015
I really enjoyed this steampunk alternate universe. I am always a sucker for the heroine with a tragic past that is driven to overcome everything as a result. It is especially rewarding when her sorcery talent makes her more powerful than just about anyone else. Her partner in saving the world is a logic-driven mentath who can't seem to help making some emotional connections as well. Add some romance, mystery, clockwork horses, floating castles and a Queen that is the literal embodiment of her country, and you come up with a very satisfying read.
Review by lovejoy_rat
16/06/2015
Fun little romp through Steampunk Land. Kind of hard to read a times due to some purple prose. Enjoyable none the less.
Review by 4leschats
16/06/2015
Great world building and plenty of action but the best part was the fun characters
Also in the Bannon and Clare series | View all