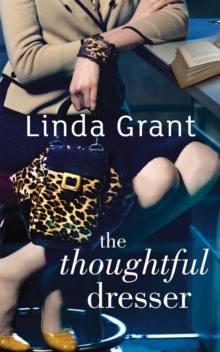 The Thoughtful Dresser
Paperback
Description
A good handbag makes the outfit. Only the rich can afford cheap shoes. The only thing worse than being skint is looking as if you're skint.'For centuries, an interest in clothes has been dismissed as the trivial pursuit of vain empty-headed women.
Yet, clothes matter, whether you are interested in fashion or not because what we choose to dress ourselves in defines our identity.
For the immigrant arriving in a new country to the teenager who needs to be part of the fashion pack or the woman turning forty who must reassess her wardrobe, the truth is that how we look and what we wear, tells a story. And what a story. THE THOUGHTFUL DRESSER tells us how a woman's hat saved her life in Nazi Germany, looks at the role of department stores in giving women a public place outside the home, savours the sheer joy of finding the right dress.
Here is the thinking woman's guide to our relationship with what we wear: why we want to look our best and why it matters.
THE THOUGHTFUL DRESSER celebrates the pleasure of adornment
Information
Format: Paperback
Pages: 320 pages
Publisher: Little, Brown Book Group
Publication Date: 05/03/2009
Category: Fashion & society
ISBN: 9781844085569
Free Home Delivery
on all orders
Pick up orders
from local bookshops
Reviews
Showing 1 - 3 of 3 reviews.
Review by tandah
16/06/2015
Initially its interesting, academic defence of fashion made me want to dress up a little, but the underlying theme moves to the forefront and it becomes a very different book.
Review by lizchris
16/06/2015
This is a collection of essays, broadly linked by the argument that clothes, and an interest in them, is an essential part of humanity not a frivolous pastime. I enjoyed reading the individual pieces but overall found it a little thin. There are some striking stories about how the pursuit of style and beauty can enhance our individualism and humanity, but I found the frequent references to high-end designer clothes and shoes a bit grating.
Review by liz.mabry
16/06/2015
An interesting, but somewhat superficial, exploration of why clothes and fashion matter. I think I was expecting a bit more depth, but it was an enjoyable read nonetheless. <br/><br/>I definitely think the book would have benefited from more critical editing - the overall flow could have been smoother, and several times I found myself reading passages that were simply restatements of points previously made. Yes, that's a bit picky, but it's something I noticed.