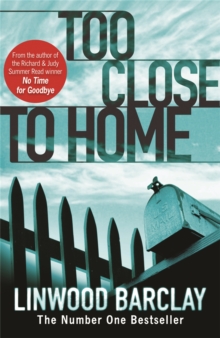 Too Close to Home
Paperback
Description
A superb, lightning-paced thriller from the No. 1 bestselling author of NO TIME FOR GOODBYEWhen the Cutter family's next-door neighbours, the Langleys, are gunned down in their house one hot August night, the Cutters' world is turned upside down.
That violent death should have come so close to them is shocking enough in suburban Promise Falls, but at least the Cutters can console themselves with the thought that lightning is unlikely to strike twice in the same place.
Unless, of course, the killers went to the wrong house . . . At first the idea seems crazy - but each of the Cutter family has a secret they'd rather keep buried.
What was on that old computer teenage Derek and his friend Adam Langley had salvaged? And where is it now? What hold does a local professor and bestselling author have on Ellen Cutter? And what does Jim Cutter know about Mrs Langley that even her husband didn't?To find out who killed the Langleys and why, everybody's secrets are going to have to come out.
But the final secret - the secret that could save them or destroy them - is in the one place nobody would ever think of looking . . .
Information
Format: Paperback
Pages: 480 pages
Publisher: Orion Publishing Co
Publication Date: 01/07/2009
Category: Crime & mystery
ISBN: 9781409102090
Other Formats
EPUB from £5.99
from £7.99
Free Home Delivery
on all orders
Pick up orders
from local bookshops
Reviews
Showing 1 - 1 of 1 reviews.
Review by ReadingHabit
16/06/2015
Hmmmmm.....I think I should preface this review by stating that crime/thrillers are not my ''go to'' genre for books. Even when confronted with a stuck-in-the-airport-with-no-reading-material-situation, I am unlikely to purchase such a garden-variety example from the glut already drowning us. But as the September selection for my book club, my fate was fixed. Whilst I will concede that the crime/thriller choices of my book club have occasionally surprised me with a gem like ''The Girl with the Dragon Tattoo'' by Stieg Larsson, they have more often than not bored me with ho-hum attempts of which ''Too Close to Home'' by Linwood Barclay is a tragic example.Sporting a generic cover aspiring to be a B-grade horror movie poster, the book looked as bland as I was about to discover its innards tasted. There was a slight chance that reading the blurb might bolster my appetite, but a quick scan confirmed my suspicions that here was yet another formulaic thriller novel designed to spoon feed the masses. And the contents, you ask? Well they left me feeling nauseous.''Too Close to Home'' is essentially a murder mystery centred around the cold-blooded execution of an entire family. Young Derek Cutter witnesses the murder and his family soon become embroiled in the quest to find the killers. The back cover blurb attempts to trick you into believing the book has more depth than my brief synopsis indicates, but the storyline and character development are as shallow as they come. The bumbling plot stumbles along through a hodge-podge of convenient coincidences, irrational character decisions and clumsily designed sub-plots designed to throw you off the scent but fail to do exactly that. Not to mention the ever-predictable last-minute twist that we all saw coming. Let's take a look at some specific examples. The book is set in an average town, full of average people and focuses on an average family. The key word here is average. But we are asked to believe that an average person would decide not to co-operate with police, but instead investigate the crime themselves. Who are these people? The central character hires a new employee, who he later learns is a bank robber, but still keeps him on leaving him alone with his recently traumatised son without really questioning his character. Again, who are these people? And let's not forget the average town mayor who gets publicly drunk and vomits at the front door of a halfway house for women, has sex with an under-age hooker, and punches his employee in the eye, but always seems to win the people over and elude any questions about his leadership. Do I need to say it again? I could go on and on, but the basic point is that the characters and the storyline are totally unrealistic and we are asked to be gullible beyond all reason. As far as I'm concerned, this is a mortal wound for the book. You've lost me. Case closed! I am but a small fish and history proves that my opinion is no true reflection of ''what's hot'' on the bestseller list. Keeping with tradition ''Too Close to Home'' has enjoyed a superfluity of praise in the reading world. Not only did it win the Best Novel category at the Arthur Ellis awards (the top prize in Canada for crime fiction), but it was also a UK bestseller, at one stage selling over 45,000 copies in just one week. So it begs the question - am I missing something? Please enlighten me.I apologise in advance to Linwood Barclay as I am sure he doesn't deserve this treatment. His book is merely the catalyst for my rant and he is most certainly not the only offender. My quibble is with the whole damn crime/thriller leviathan. I don't mean to sound pretentious, but when did it become OK to underestimate the average reader? And when did we, as the readers, stop fighting against it? When did we submit?