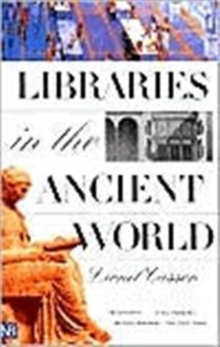 Libraries in the Ancient World
Paperback
Description
This delightful book tells the story of ancient libraries from their very beginnings, when "books" were clay tablets and writing was a new phenomenon.
Renowned classicist Lionel Casson takes us on a lively tour, from the royal libraries of the most ancient Near East, through the private and public libraries of Greece and Rome, down to the first Christian monastic libraries.
To the founders of the first public libraries of the Greek world goes the credit for creating the prototype of today's library buildings and the science of organizing books in them.
Casson recounts the development of ancient library buildings, systems, holdings, and patrons, addressing questions on a wide variety of topics, such as: * What was the connection between the rise in education and literacy and the growth of libraries? * Who contributed to the early development of public libraries, especially the great library at Alexandria? * What did ancient libraries include in their holdings? * How did ancient libraries acquire books? * What was the nature of publishing in the Greek and Roman world?* How did different types of users (royalty, scholars, religious figures) and different kinds of "books" (tablets, scrolls, codices) affect library arrangements? * How did Christianity transform the nature of library holdings?
Just as a library yields unexpected treasures to a meandering browser, this entertaining book offers to its perusers the surprising history of the rise and development of ancient libraries-a fascinating story never told before.
Information
Format: Paperback
Pages: 192 pages, 30 b-w illus.
Publisher: Yale University Press
Publication Date: 11/08/2002
Category: Library & information services
ISBN: 9780300097214
Free Home Delivery
on all orders
Pick up orders
from local bookshops
Reviews
Showing 1 - 3 of 3 reviews.
Review by flemmily
16/06/2015
Short and informative! Not riveting, but certainly not the desert-dry read that some library books can be. This book would be a great overview for those new to being interested in early libraries and the history of reading, writing and books.
Review by EdGoldberg
16/06/2015
An interesting, readable history of ancient libraries with references to archeological discoveries.
Review by drmaf
16/06/2015
I used this book heavily in writing my PhD thesis and its has the virtue of being the most recent comprehensive text on ancient libraries available. As an academic text it leaves a lot to be desired. Its casual style and lack of effective footnotes make it a frustrating read for anyone who's hoping to use it in their studies. However, as a book for the non-academic reader, its an excellent introduction to the subject of libraries in the ancient civilizations of Mesopotamia, Egypt, Greece and Rome. Those who know little beyond the Library of Alexandria will be amazed by the sophistication of ancient libraries. Anyone who loves books and libraries, and anyone who's passionate about ancient history will find this enthralling