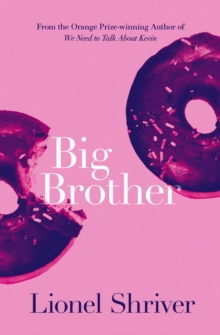 Description
From the Orange Prize-winning author of We Need to Talk About Kevin. `[Shriver's] best novel yet' INDEPENDENT ON SUNDAY Pandora has looked up to her older brother Edisonsince they were children.
Now she revels in the anonymityof her suburban Iowa life, while her brother basks in thelimelight as a New York jazz musician.
But when Edisonarrives in Iowa, suddenly in need of a place to stay, Pandoraliterally doesn't recognize him.
The once slim, hip pianisthas gained hundreds of pounds.
What happened? Soon Edison's appalling diet and know-it-all monologuesare driving Pandora and her husband Fletcher insane.And it's only a matter of time before Fletcher delivershis wife an ultimatum, it's him or me. With Shriver's distinctive wit and ferocious energy,Big Brother not only examines why we overeat, but asksmore pressingly still: just how much should you sacrificefor someone who refuses to be saved?
Information
Format: Paperback
Pages: 400 pages
Publisher: HarperCollins Publishers
Publication Date: 01/06/2017
ISBN: 9780007271108
Other Formats
EPUB from £1.99
eAudiobook MP3 from £11.59
Free Home Delivery
on all orders
Pick up orders
from local bookshops
Reviews
Showing 1 - 4 of 4 reviews.
Review by LARA335
27/08/2015
I look forward to Shriver novels, her clear-sighted take on the world, and fearless honesty. The subject matter in this one is our complex relationship with food - ranging from denial anorexia to morbid obesity. Considering how central to our lives food is, I am surprised I haven't come across a novel with similar preoccupations.A large part of the novel seemed very un-Shriver-like fairy tale and wish-fulfilment, but the ending remedied this, and Shriver's own relationship with her brother which she has written about explains her need to revisit and rewrite what she did and could have done through fiction.As usual from her - a very thought-provoking read.
Review by jayne_charles
27/08/2015
I love Lionel Shriver novels. She always makes them more interesting than the subject matter might suggest. In this case the narrator Pandora has her brother over to stay and it turns out he's grown monstrously fat. I would never have believed such mileage was to be had from obesity. Shriver doesn't so much tell a story as psychoanalyse it – there is so much intelligent comment here on the business of over-eating and dieting. So many column inches in magazines have been devoted to this subject and yet here I discovered wisdom that was new – at least to me – and as someone who could do with shedding a few pounds, I took a good deal of inspiration from it.Aside from the intellectual musings, there is a good story here. The presence of the overindulgent brother drives a wedge between Pandora and her abstemious husband, and ultimately threatens her marriage. The reader is never totally sure how it will pan out. And the idea behind the narrator's successful business was a brilliant one – I would be surprised if some entrepreneur didn't try it for real. I would have bought one of those dolls like a shot.
Review by infjsarah
27/08/2015
Can't say I liked this much but then I hated "Kevin" and wouldn't have read Shriver again if it hadn't been a reading group book.She does have some interesting things to say about our obsession with food, diet and exercise. And I wondered if the twist ending was meant to point out to us how easily we are fooled by the promises of magic diets. Reality isn't like that. I was annoyed with myself that I didn't spot the clues.But as a writer she comes across as annoyingly superior - "I'm so clever compared to you stupid lot" - yeah, right.
Review by starbox
27/08/2015
"There has to be more to life than food and drink",, 24 July 2015This review is from: Big Brother (Paperback)When Pandora - chubby forty-something, married to a grumpy health freak, and stepmother to his two teenagers - welcomes her big brother on a visit, she isn't prepared for the changes in him. After four years, the formerly good-looking jazz musician has become chronically obese, and his life and career have gone down the pan.With husband Fletcher's increasing disgust at Edison's eating habits and untidiness, Pandora has to decide whether she should put her brother first and sacrifice her marriage to help her friendless sibling...This was an enjoyable read, but one that makes the reader think about the wave of obesity sweeping the West today:"The more I chewed, the more bewildered I grew by how this fleeting, unseizable pleasure had so enslaved my countrymen that many of us were willing to disgrace ourselves for it: demoralize ourselves for it; demolish a host of other pleasures for it, like running and dancing and sex; destroy this very pleasure itself in its pursuit - for every tidbit I'd consumed since putting on weight had been contaminated with an acrid after-taste of self-reproach; and even, in extreme cases like the one my fast becoming, die for it."Expect to be surprised...