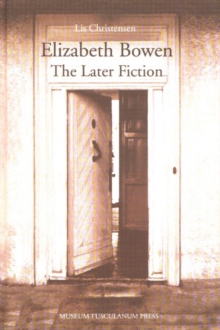 Elizabeth Bowen : The Later Fiction
Paperback / softback
Description
The Anglo-Irish author Elizabeth Bowen (1899-1973) entered the literary arena in the 1920s, at a time when the English novel was flourishing and the short story beginning to be recognised as a serious art form.
Between 1927 and 1938 she published six full-length novels; it was largely the pressures of the Second World War that then caused eleven years to elapse before she brought out her much acclaimed novel of wartime London, 'The Heat of the Day' (1949).
This novel, a medley of romance, spy-story and psychological thriller, anticipated the three novels Bowen went on to write in the 1950s and 1960s, which are all concerned with problems of identity and communication; all deal with the passing of time and the influence of the dead on the living, and all demonstrate the dangers of looking into the past for a present-day sense of security and identity.
Christensen examines some aspects of theme and strategy in the last four novels, glancing also at Bowen's post-war stories.
Brief presentations and plot summaries are placed in the context of her life and dealt with in a separate section.
Information
Format: Paperback / softback
Pages: 224 pages
Publisher: Museum Tusculanum Press
Publication Date: 01/12/2001
Category: Literary studies: from c 1900 -
ISBN: 9788772896243