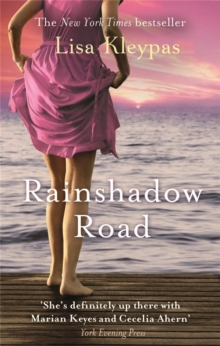 Rainshadow Road : Number 2 in series
Paperback
Description
Lucy Marinn is a glass artist living in beautiful, inspiring Friday Harbour, Washington.
Creatively fulfilled and in love, she is content with her life, until she is stunned by the worst kind of betrayal: her boyfriend Kevin announces he's leaving Lucy to be with her younger sister.Facing the disapproval of Lucy's parents, Kevin asks his friend Sam Nolan, one of the owners of the Rainshadow vineyard, to 'romance' Lucy and help her get over her anger.
But when Sam and Lucy begin to fall in love, things become complicated, especially when Kevin starts to have second thoughts. And when Lucy discovers that the new relationship in her life began under false pretences, her world is shattered, and she is forced to question everything.
Information
Format: Paperback
Pages: 336 pages
Publisher: Little, Brown Book Group
Publication Date: 01/02/2012
ISBN: 9780749953881
Free Home Delivery
on all orders
Pick up orders
from local bookshops
Reviews
Showing 1 - 4 of 4 reviews.
Review by cranberrytarts
16/06/2015
This is a sweet, magical story. It took a small suspension of disbelief to buy into the paranormal element, but in the end I think Kleypas made it work.<br/><br/>Speaking of the paranormal element - which is really more mystical than paranormal - I have to say it took me by surprise at first. after thinning about it, however, it shouldn't have. The theme of the first book was magic, and that carried over here. By adding a touch of whimsy, Kleypas have the story some much needed air. Otherwise I think it would have been bogged down by both Lucy and Sam's past disappointments.<br/><br/>There was something very real about the characters. Though its fun to read about the uber-alpha hero, I enjoyed how *normal* Sam was. Here was a man who wanted sex without complications, but was willing to offer friendship as well. There was no dark brooding if he was denied her bed, no emo-like sulking of she didn't call or fall in line with what he wanted. There were only two mature adults dealing with life and learning each other.<br/><br/>It was refreshing that they had interests outside each other. Lucy was passionate about her glass making and Sam about his wine making. Sam had his brothers and niece, and Lucy her friends. Too often in contemporary romance the hero and heroine find themselves wrapped up in each other, or meshing their lives completely. I'm glad that didn't happen here.<br/><br/>The shadow comes from Lucy's sister Alice, and her relationship with her parents. While I understood the reason Lucy thought she needed to forgive her, I wasn't at all impressed with the way Kleypas handled that story-line. I was also annoyed at the POV hopping as sequel bait. I didn't need to read things from Alice's perspective, nor from Alex or Zoe (Sam's brother and one of Lucy's best friends, who will be featured in the next book). <br/><br/>Overall this was an enjoyable read. I'm looking forward to the third book in August.
Review by JudithDCollins
16/06/2015
"Awesome Author! Romantic! First novel in the Friday Harbor Trilogy - a story of love, loss, and the powerful possibility of magic! Looking forward to Lisa's new book "Dream Lake" coming August 2012! Will most definitely read more of her works - superior writer! "
Review by Dawn772
16/06/2015
I really liked this story about glass worker Lucy and vineyard owner Sam. The plot emotionally worked through Lucy's boyfriend betrayal rather then wallowing in it and Sam's commitment phobia panned out different than the norm. I did enjoy the growth of this relationship.<br/>
Review by cmlloyd67
16/06/2015
A likable romance. Better written than 50 Shades, although that admittedly isn't hard to do, yet oddly not quite as entertaining. (Kleypas lacks James's dry wit.) This isn't erotica though, few sex scenes. Actually there's really just one or two. Most of the focus is on what the characters do for a living, a welcome change. And there's a hint of magical surrealism - Lucy has the ability to turn glass objects into living creatures, and Sam can make things grow. The writer does get a bit maudlin in places, and preachy - there's quite a few "quotable" lines about how one should live one's life and what true love is, which felt like overkill and unnecessary. <br/><br/>While there are quite a few great lines here and there, nothing that standouts. A quick read. Likable characters. Learned quite a bit about glass making and winegrowing, actually made me want to go and take a course on stained glass. And a nice change of pace from the erotica kick that I'd been on. Here, the hero is down-to-earth, not a multimillionaire, and not controlling or possessive or jealous. It does fall into established formula, or cliche in places - but no more so than most of these books do.<br/>Similar in some respects to Jennifer Cruisie and Nora Roberts.
Also in the Friday Harbor series | View all