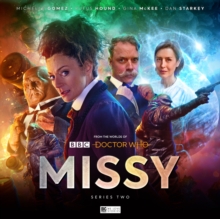 Missy Series 2
CD-Audio
Part of the Missy series
Description
Missy - alone, unleashed and unfettered. What does she get up to when the Doctor isn't around? 2.1 The Lumiat by Lisa McMullin. Missy is glorying in the chaos, hoping that a certain someone might turn up.
What she doesn't expect is an entirely different do-gooder spoiling her plans and teaching her life lessons. Because, whoever she is, the Lumiat knows far more about Missy than anyone should...2.2 Brimstone and Terror by Roy Gill.
Missy wants an army, a brigade of willing youngsters, trained to serve.
So she takes a teaching post at a remote Scottish boarding school.
But one of these boys knows Missy of old. And when Oliver Davis summons his sister for help, Lucy brings an ally from London.
One Mr Strax... 2.3 Treason and Plot by Gemma Arrowsmith. The Gunpowder Ploy. It's a favourite of time travellers. If Missy's going to hitch a ride, that's the place to cause trouble.
Especially if trouble makes a really big bang. The only person in herway, trying to keep history on track, is a rookie Time Agent.
But Rita Cooper wanted excitement... 2.4 Too Many Masters by John Dorney.The Monk has captured Missy. And he will have his revenge... But the Ogrons are also looking to settle an old debt. And when they call it in, they find themselves with too many Time Lords on their hands.
The Master owes then big - and the Ogrons know who the Master is.
Don't they? CAST: Michelle Gomez (Missy/Matis), Rufus Hound (The Meddling Monk), Gina McKee (The Lumiat), Dan Starkey (Strax), Ajjaz Awad (Lydia), John Banks (Radolf/Lieutenant Grappa/Feyza), Oliver Clement (Oliver Davis), Ben Fox (Robert Catesby), Helen Goldwyn (Empress Maule), Christopher Hatherall (Guy Fawkes), Alex Hope (Lawrence McAllister), Matthew Jacobs-Morgan (Bertram/Manilaius), Bonnie Kingston (Lucy Davis), Glen McCready(Burnsbright/Librarian/Ogron 2), Cameron Percival (Rowan Fairley), Philip Pope (Rita's Boss/William/Baron Worthing), Dan Starkey (Strax/Mr Strackie/Mr Cosmo), Ony Uhiara (Rita Cooper), Eve Webster (Keeza/Captain Rosecco/Han), Robert Whitelock (Grolk/Ogrons/Servant).
Other parts played by members of the cast.
Information
Format:CD-Audio
Publisher:Big Finish Productions Ltd
Publication Date:30/09/2020
Category:
ISBN:9781838682286