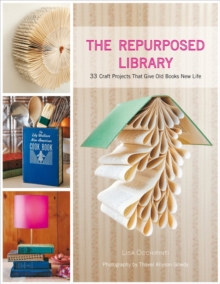 Repurposed Library: 33 Craft Projects that Give Old Books New Lif
Hardback
Description
The Repurposed Library is a celebration of the possibilities that books have to offer as an art material.
Obviously, we love to read and learn from books, but The Repurposed Library takes our passion for books one step further, presenting crafters with 33 projects to make out of books.
Each year thousands of books are sold at flea markets for pennies, remaindered by bookstores, and given away by libraries.
Lisa Occhipinti rescues and repurposes these orphaned books, transforming them into new art objects and practical items for the home and everyday life.
The projects in The Repurposed Library range from artfully constructed mobiles, wreaths, and vases, to functional items, such as shelves, a secret box, a lampshade, and even a Kindle holder for those who want to replicate the sensation of holding a realA" book.
Projects utilize every imaginable part of a book - from hardback cover to individual pages - and often require no more than a craft knife and Elmer's glue to complete.
Hand-drawn step-by-step illustrations make the instructions especially easy to follow.
Information
Format: Hardback
Pages: 144 pages, 75 photographs; 150 illustrations
Publisher: Stewart, Tabori & Chang Inc
Publication Date: 01/04/2011
Category: Book & paper crafts
ISBN: 9781584799092
Free Home Delivery
on all orders
Pick up orders
from local bookshops
Reviews
Showing 1 - 1 of 1 reviews.
Review by cattylj
16/06/2015
We're hosting a community day event in a few months so I turned to <i>The Repurposed Library<i> for inspiration. We have TONS of deselected books and knew we wanted to reuse them. Our theme is sustainability, so this seemed like a great way to approach the topic with our students. I know tearing books apart seems counter intuitive to a librarian's nature, but they're mostly outdated textbooks, some with highly questionable content. They aren't antiques, rare editions, valuable, or anywhere near as pretty as some of the books Occhipinti works with. So I don't feel bad about it. This way they'll actually get some use.<br/><br/>The Repurposed Library contains a collection of crafts for recycling, upcycling, and repurposing old books. Each project is nicely photographed and illustrated alongside detailed instructions. Occhipinti also provides tips and tricks for some basic procedures - mending broken spines, removing hardcovers, etc. The crafts range in terms of skill level and equipment needed, but everything is made accessible to the reader.<br/><br/>I only gave it 3 stars because it wasn't as extensive as I was hoping. Some of the crafts seemed like way more trouble than they were worth. I was looking for more ideas that didn't require other materials and/or tools - we need crafts that groups of people can realistically do in about an hour and don't have to resources to provide everyone with their own drill. Even more basic folding crafts would have been appreciated. I also couldn't picture a practical use for some of them. They were cool in theory, but ultimately would I want them around my house? Idk...but that's all a matter of taste. If you're determined and have the necessary tools handy, you might get more out of it than I did. It's definitely worth a look for some inspiration.