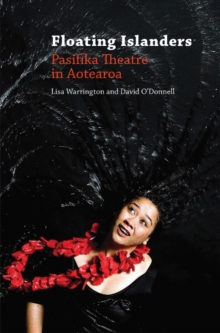 Floating Islanders : Pasifika Theatre in Aotearoa
Paperback
Description
This book celebrates 30 years of Pasifika theatre in Aotearoa/New Zealand.
Pacific Underground, Pacific Theatre, The Laughing Samoans, The Conch, The Naked Samoans, Kila Kokonut Krew the distinctive style and themes of Pasifika theatre have been developed by many individuals and theatre companies in New Zealand.
Authors Lisa Warrington and David ODonnell have interviewed over 30 theatre practitioners to tell the story of Pasifika theatre in Aotearoa from 1984 to 2015. This lively book showcases playwrights, directors and performers whose heritage lies in Samoa, Niue, Fiji, Tonga, Tokelau and the Cook Islands.
Extracts from the interviews are threaded throughout the book, providing often entertaining insights into their history and creative practice.
While the immigrant experience of living in two worlds is often seen as troubled, the authors suggest that this in-between-ness has been turned to advantage in Pasifika theatre to create a unique and often subversive performance phenomenon.
Not only is Pasifika theatre a success story within the performing arts in New Zealand, it is also an intriguing case study of migrant theatre that has international resonance.
Information
Format: Paperback
Pages: 284 pages, colour photos
Publisher: Otago University Press
Publication Date: 01/02/2018
ISBN: 9781988531076
Free Home Delivery
on all orders
Pick up orders
from local bookshops