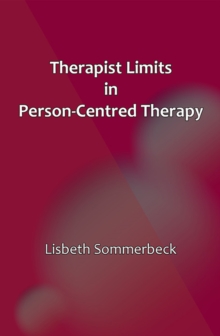 Therapist Limits in Person-Centred Therapy
Paperback / softback
Description
There are many reasons why the practice of person-centred therapy can become difficult.
An issue that is frequently brought to supervision is when the therapist's limits are challenged.
It is therefore surprising that there is very little in the client-centred literature about therapist limits in counselling and psychotherapy with adult clients.
This provides the rationale for this book as it attempts to redress that omission, offers a review of the existing literature and provides a starting point for discussion.Lisbeth Sommerbeck writes from her many years' experience as a psychotherapist working in the Danish psychiatric care system with clients with severe and enduring mental health problems.
Many therapists fear that this client group will challenge their limits and Sommerbeck provides a straightforward appreciation of the problems and offers solutions.
Information
Format: Paperback / softback
Pages: 122 pages
Publisher: PCCS Books
Publication Date: 20/08/2015
Category: Psychiatry
ISBN: 9781906254810
Also by Lisbeth Sommerbeck