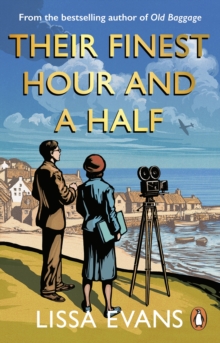 Their Finest Hour and a Half : Now a major film starring Gemma Arterton and Bill Nighy
Paperback
Description
In 1940, every draft of every film script had to be approved by the Ministry of Information.
Cast and crew were waiting to be called up at any moment, travel was restricted and filming was interrupted by regular bombing raids. And so it is that we find a disparate group of characters whose paths would never have crossed in peacetime: Ambrose Hilliard, a washed up old ham from the golden era of silent movies; Catrin Cole, formerly an advertising copywriter drafted in to 'write women' for the Ministry of Information; Edith Beadmore, a wardrobe assistant at Madame Tussauds; and Arthur Frith, peacetime catering manager turned wartime Special Military Advisor.
This distinct group find themselves thrown together in the wilds of Norfolk to 'do their bit' on the latest propaganda film - a heart-warming tale of derring do, of two sisters who set out in a leaking old wooden boat to rescue the brave men trapped at Dunkirk.
All completely fabricated, of course, but what does that matter when the nation's morale is at stake?
Newly crowned actor, script-writer, costumier and military attache must swallow their mutual distaste, ill-will and mistrust and unite for the common good, for King and country, and - in one case - for better or worse...
Information
Format: Paperback
Pages: 416 pages
Publisher: Transworld Publishers Ltd
Publication Date: 01/12/2009
ISBN: 9780552774710
Free Home Delivery
on all orders
Pick up orders
from local bookshops
Reviews
Showing 1 - 1 of 1 reviews.
Review by pokarekareana
16/06/2015
It is London in 1940, and the Ministry of Information is churning out films to improve morale. Catrin Cole, writer, followed her lover to London from South Wales. Ambrose Hilliard is the character actor dreaming of the lead roles he played twenty years earlier. Arthur Frith is the military advisor who can't quite shake his memories of Dunkirk. Edith sews buttons on costumes. Cerberus the dog doesn't like water. The American can't act. One of the other writers has oily hair.Therein lies my main problem with this book. There are a lot of characters, and at one point or another, they're all doing something that is of central importance to the plot. Sadly, they are all forgettable characters, insipid and something short of endearing. There were brief glimpses of humanity in each of them, but they all eventually retreat into dull wartime wallpaper. I kept getting characters mixed up in my mind, and I really struggled to imagine any of them as real people.Don't be fooled into thinking that this is a story about London during the Blitz. This is principally a story about these somewhat two-dimensional characters, and their experience of making what is supposed to be a heroic film whilst some beastly Jerries are outside, making a frightful racket and keeping people awake at night. The war encroaches on their daily lives, with houses bombed out and characters killed off, but there is a peculiar lack of real emotional response to this. Finally, the last hundred pages were exceptionally tedious. This felt like a two-hundred-page book that had been stretched out to fill four hundred. Disappointing.