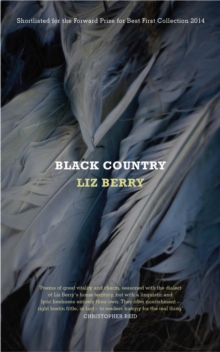 Description
WINNER OF THE FORWARD PRIZE BEST FIRST COLLECTION 2014*PBS Recommendation 2014*`When I became a bird, Lord, nothing could not stop me...'In Black Country, Liz Berry takes flight: to Wrens Nest, Gosty Hill, Tipton-on-Cut; to the places of home.
The poems move from the magic of childhood - bostin fittle at Nanny's, summers before school - into deeper, darker territory: sensual love, enchanted weddings, and the promise of new life. In Berry's hands, the ordinary is transformed: her characters shift shapes, her eye is unusual, her ear attuned to the sounds of the Black Country, with `vowels ferrous as nails, consonants / you could lick the coal from.' Ablaze with energy and full of the rich dialect of the West Midlands, this is an incandescent debut from a poet of dazzling talent and verve.
Information
Format: Paperback
Pages: 80 pages
Publisher: Vintage Publishing
Publication Date: 07/08/2014
Category: Poetry by individual poets
ISBN: 9780701188573
Free Home Delivery
on all orders
Pick up orders
from local bookshops
Reviews
Showing 1 - 1 of 1 reviews.
Review by Roseredlee
27/08/2015
I resisted buying this even after loving a poem I had read from it somewhere as I am wary of the disappointment that often follows the purchase of well-reviewed collections by creative-writing graduates. And I have spent a lifetime trying to keep my accent 'in a box beneath the bed,/the lock rusted shut by hours of elocution/how now brown cow' - a West Midlands accent is not regarded very highly, something Berry wants to change. She wants to make the 'vowels ferrous as nails, consonantsyou could lick the coal from'- the whole Black Country culture which was the backbone of British industry, a subject for poetry. I was unable to resist, anyway, and am delighted that I bought it, and that Berry has just won the Felix Dennis Prize for it, which suggests that the voice has travelled (though the judges' agenda appeared to include the desire to spread the love of poetry to the masses - not that I'm quibbling with that).So - there are strong 'dialect' words here, requiring on page transition for the uninitiated. There are lots of references to Midlands life, which seems to be carrying on just as it did when I was a girl, many years ago - Berry has the poetic skill that allows her poems to be firmly rooted in place and yet to transcend both time and place, as in the brilliant Christmas Eve, when 'the Black Country is tinselled by sleet'. The collection opens with a poem called 'Bird,' the bird we have to become to leave our (wren's'! in-joke) nest and find our voices and fly away, and birds fly throughout, allowing access to the unknowable, letting the imagination soar. A fairytale magic pervades many of the poems - I was reminded, oddly, of Chagall. And I actually cried at one point,something that rarely happens, on reading My Mother's Wedding Shoes, with its ending:'Walk away, mah wench, from this town, that wedding.Tek your books an' yer sense an' keep on walking,even if yo hear me blarting, dow ever turn back.'That makes me cry both as a mother and as a daughter. Sadly on a wider level I suppose it also means that perhaps we have to get far from our roots before we can appreciate them.I thank Liz Berry for giving me back 'my' Black Country. She has written a brilliant collection that also lyrically covers family love ('traipsing home with your dad from the pit's/black skeleton, your hand in his pocket, close as a kiss') girls growing up, discovering sex and love, death and birth, personal yet universal, so - something for everyone!