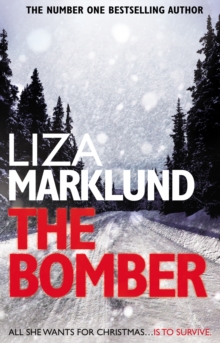 Description
Seven days. Three killings. And one woman who knows too much... Crime reporter Annika Bengtzon is woken by a phonecall in the early hours of a wintry December morning.
An explosion has ripped apart the Olympic Stadium. And a victim has been blown to pieces. As Annika delves into the details of the bombing and the background of the victim, there is a second explosion.
These chilling crimes could be her biggest news story yet.
When her police source reveals they are hot on the heels of the bomber, Annika is guaranteed an exclusive with her name on it.
But she is uncovering too much, and soon finds herself the target of a deranged serial killer...
Information
Format: Paperback
Pages: 528 pages
Publisher: Transworld Publishers Ltd
Publication Date: 01/11/2011
Category: Crime & mystery
ISBN: 9780552160926
Free Home Delivery
on all orders
Pick up orders
from local bookshops
Reviews
Showing 1 - 2 of 2 reviews.
Review by agkeery
16/06/2015
Another Great Read from Liza Marklund.
Review by smik
16/06/2015
The suspense level in THE BOMBER is enhanced by the fact that the action, the bomb blast at the newly constructed Olympic stadium in Stockholm, takes place just a week before Christmas. This has the effect of a sort of count down, can the police or the journalists solve the mystery before Christmas Day?Once the identity of the bomb victim has been established, there are many, including journalists, who believe that it is a threat by terrorists against the Olympics being held in Stockholm. Others, police included, believe it is an inside job, directed personally against the head of Sweden's Olympic Committee Bid. The first point of view seems reinforced when a second bombing occurs at another Olympic venue.For Annika Bengtzon, head of a newspaper's crime section, reporting the bombings brings it's own challenges. She has spent a number of years establishing a relationship with a police "deep throat" but much of what he tells her can't be released to the public. Members of her own team begin to challenge Annika's authority when she refuses to use the terrorism line.Annika is also a young mother whose husband has a stressful job too, and Marklund explores the strains of their relationship particularly when Annika's job puts her family in danger. It is clear that the author is also using the novel to explore what happens when a woman works in a male-dominated profession.Another issue that surfaces from the author's journalism background is that of the steps print newspapers have to take to survive in a world of technological change. I thought there was maybe a little too much about marketing strategies but the bits about the tough decisions that chief editors have to make to ensure that their papers survive was well done.The novel comes with its own puzzle too: there are seven chapters with headings: Existence, Love, Humanity etc. The reader is never clearly told until the end whose life story these chapters describe.