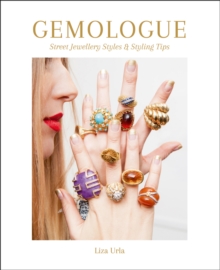 Gemologue : Street Jewellery Styles & Styling Tips
Paperback / softback
Description
Did you know that jewellery predates clothes? The oldest known piece is a set of 100, 000-year-old beads, made fromNassarius shells. Liza Urla advises us not to look at the eyes when meeting a new person, but instead to look at their jewellery.
She describes itas the ultimate means of self-expression, essential to our identification as humans. "Jewellery is our armour," she says, "andprecious stones our amulets".
In this book, she journeys from continent to continent, chronicling the pieces that capture herimagination and her heart. Although many of the pictures are from the street, defining the wearer's style on the day they were taken, Urla has been luckyenough to access people's personal jewellery boxes.
As she says, the best pieces are always in private collections.
Urla'sfavourite finds are presented alongside her own jewellery styling, in collaboration with various designers from the jungles ofBrazil, the beaches of Mexico, or the streets of London, NYC, Paris or Moscow.
Information
Format:Paperback / softback
Pages:352 pages, 310 Colour
Publisher:ACC Art Books
Publication Date:24/04/2018
Category:
ISBN:9781851498819