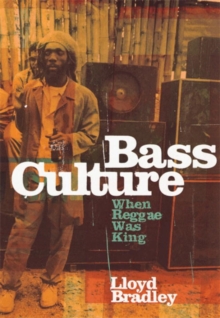 Bass Culture : When Reggae Was King
Paperback
Description
The first major account of the history of reggae, black music journalist Lloyd Bradley describes its origins and development in Jamaica, from ska to rock-steady to dub and then to reggae itself, a local music which conquered the world.
There are many extraordinary stories about characters like Prince Buster, King Tubby and Bob Marley.
But this is more than a book of music history: it relates the story of reggae to the whole history of Jamaica, from colonial island to troubled independence, and Jamaicans, from Kingston to London.
Information
Format: Paperback
Pages: 608 pages
Publisher: Penguin Books Ltd
Publication Date: 30/08/2001
Category: Reggae
ISBN: 9780140237634
Free Home Delivery
on all orders
Pick up orders
from local bookshops
Reviews
Showing 1 - 2 of 2 reviews.
Review by nickhoonaloon
16/06/2015
Anyone interested in this book will probably have heard one or two of the criticisms that have been levelled at it - particularly that there are too many careless mistakes, and that the author is prone to lending too unbiased an ear to some of his sources.These things are true. Nevertheless, I would still defend this epic labour of love - it took six years to write - if only because it`s certainly the best and most authoritative reggae book I`ve encountered so far.The author looks at the various types of music that are collectively referred to as reggae - ska, rocksteady, dub, roots & culture, lovers rock, and, to his credit, touches on the much-neglected (by writers) singer-songwriter tradition in reggae, and then on to more recent styles like dancehall.I would agree with Bradley`s detractors on their two main criticisms - Prince Buster provides a few words of approbation at the front of the volume, and in the early part you sometimes wonder why he didn`t write it himself, given that his reminiscences and opinions go completely unquestioned, even when clearly designed to enhance the Buster reputation, possibly at the expense of accuracy.Later, in the section on the largely Rastafarian `roots and culture` reggae, I personally spotted a number of errors, though I am no expert.Nevertheless, given the scope of the work, the author`s many sharp insights and - importantly - his ability to make you laugh, I think this book will be around for some time to come, probably with very few credible rivals.Without wanting to detract further from a book all reggae lovers should certainly consider buying. I did have a couple of points of my own. His comments on the decline in popularity of roots reggae during the early `80s do seem less well-thought out than I might have expected and his facts seem questionable - are there really only "a few thousand" hardcore white working class reggae fans in the UK ? How does he know ? I think he ties this too readily to the death of Marley and gives too little consideration to practical matters here. Jazz and blues weathered many a crisis in the UK, as did other styles, simply because they had a `pub circuit` to rely on where devotees could see bands and even perform themselves. Reggae has never had this `life support system` to fall back on to the same extent.I saw a number of roots bands during the period in question. At that time, many touring bands still sought to replicate the sound of their recordings by taking relatively large line-ups (including brass sections and/or backing vocalists) out on the road - a situation that was simply not financially viable. A few (Burning Spear, Culture etc) built international careers based largely on extensive world tours, but, certainly in the case of Culture, marvellous though they were, the live sound only approximated the recorded sound. The other point would be that quite a proportion of the nternational roots artists he spoke to gave their interviews from swish hotel rooms or smart suburban homes, and all speak the language of the career musician. Most have not been `the man in the street` for quite some time. Wiser men than me have pointed out that reggae has not always put it`s own house in order. Bradley is rightly horrified by the influence of gangsters in the Kingston today. At the same time, however,he is amused if anything to hear a rumour that at one time a well-known reggae singer carried out armed robberies in the UK whilst on tour here. I don`t doubt that the rumour is inherently questionable, and I can`t imagine it`s a common way for musicians to supplement their income - in fact it`s so unusual, I could make an educated guess who this particular rumour concerns - nevertheless, it`s been rare to hear reggae singers raise particularly strident objections to bad attitudes and lifestyles among their peers - singer and record company proprietor Dr Alimontado stands out as a man who has, admirably, not been afraid to speak his mind on these matters. Reggae writers, of course, have normally been decidedly pliable - Timothy White treats it as almost humorous that Bob Marley allegedly beat wife Rita and son Ziggy Marley. As I say, these last points are just a few opinions of my own, and you may disagree if you wish.If you have an interest in reggae, in all it`s forms, and have a bit of time and money to spare, you`ll want to invest in this fascinating and very readable book.
Review by sfhaa
16/06/2015
An invigorating and educational history on not only the sounds but the politics and places that created the backbone of modern music, written lucidly and intelligently.