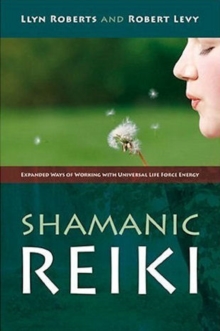 Shamanic Reiki : Expanded Ways of Working with Universal Life Force Energy
Paperback
Description
For the first time in print, shamanic techniques are introduced that healers and Reiki practitioners can draw on to tap into ancient healing wisdom.
Shamanism and Reiki are, by themselves, powerful ways to heal.
Together, their power multiplies, and healing methods become available that aren't accessible if they're used separately.
The purpose of "Shamanic Reiki" is to introduce you to concepts in both and provide you with detailed proven methods to enhance your own healing practices, or to work on yourselves. "Shamanic Reiki" empowers the healer / Reiki practitioner to trust their instincts, recognizing that healing is an evolving and dynamic art; to facilitate change requires the healer to trust in spirit and work creatively with the universal life force energy.
Now it's your turn to discover the combined power of Reiki and shamanism.
Information
Format: Paperback
Pages: 260 pages
Publisher: John Hunt Publishing
Publication Date: 01/01/2008
Category: Complementary medicine
ISBN: 9781846940378
Free Home Delivery
on all orders
Pick up orders
from local bookshops
Reviews
Showing 1 - 3 of 3 reviews.
Review by earthlistener
16/06/2015
I was actually really surprised by this book. When I picked it up I worried that this book would be too "New Agey" in the negative sense for my usual taste, but I was quickly proven wrong. I learned a lot from this book. It was really informative to say the least. I don't know or practice Reiki, but I am slowly beginning for practice my own form of shamanism; and I learned and gained ideas on a lot of really great techniques and ways to go about a possible healing. I read on idea on how I could use a rattle and drum during rituals to move energy in certain ways - something I had guess could be and was done, but no book I have read till this one really talked about it. I think one of the things I really didn't like about this book is that it skirted over the shamanic journeying as being just like a guided mediation of sorts without any real risk or danger to it. The book, like many others, does't really go into those dangerous outside the warning not to attempt one without helper spirits and spirit guides. Outside of that, I really nice book overall. I can honestly say I was greatly and happily surprised outside the that flaw.
Review by marymuse
16/06/2015
As a reiki practitioner and someone drawn to shamanism, this book called to me. Once I picked it up, the writing style drew me in. The authors work from the premise that the reader knows about reiki and is looking to enhance his or her reiki practice and work. While most of the exercises start with the practitioner treating a patient and walking him or her through the steps, I do think that they could be done during a self-treatment, especially if the reiki practitioner is versed in journeying. There's a lot of heavy material in this book, talking about soul retrieval, removing blocks, and cords. And yet, the information comes across as so accessible, yet serious, that the reader doesn't feel overwhelmed. By combining shamanic work with reiki, the authors show you how to deepen your practice and use reiki to an even higher purpose.This is one book that I'll keep on my keeper shelf and refer to again and again. I've marked the suggested reading, and look forward to hunting down those books soon!
Review by biunicorn
16/06/2015
Shamanic ReikiExpanded Ways of Working With Universal Life Force Energyby Llyn Roberts and Robert Levy An innovative blending of two blessed traditions, this 180 page healing how-to is an exceptional road map that opened my eyes in a lot of areas, and also helped me to understand more about the Shamanic path. Being a Reiki Master, I am familiar with the versatility and adaptability of this loving energy, and I was impressed at the way the authors were able to skillfully connect it to the wisdom and teachings of the Shaman. This book defines different techniques and gives step by step instructions on useful things like conducting a Reiki session, Shape Shifting, working with energy blocks and a whole lot more. I was also taken in by the respectful and gentle way this spiritual material was presented, and I would recommend it to anyone drawn to this very noble path. Thank you both, for such a joyous undertaking. Love & Light, Riki Frahmann