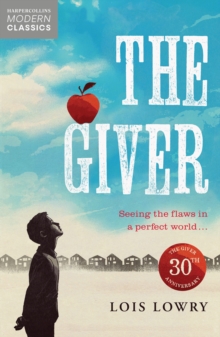 Description
In a perfect world, Jonas begins to see the flaws... THE GIVER is the classic award-winning novel that inspired the dystopian genre and a major motion picture adaptation for 2014 starring Jeff Bridges, Meryl Streep, Katie Holmes and Taylor Swift. It is the future. There is no war, no hunger, no pain. No one in the community wants for anything. Everything needed is provided. And at twelve years old, each member of the community has their profession carefully chosen for them by the Committee of Elders. Twelve-year old Jonas has never thought there was anything wrong with his world.
But from the moment he is selected as the Receiver of Memory, Jonas discovers that their community is not as perfect as it seems. It is only with the help of the Giver, that Jonas can find what has been lost. And it is only through his personal courage that Jonas finds the strength to do what is right... The Giver is the award-winning classic of bravery and adventure that has inspired countless dystopian writers as the forerunner of this genre.
Information
Format: Paperback
Pages: 240 pages
Publisher: HarperCollins Publishers
Publication Date: 05/05/2008
Category: Science fiction
ISBN: 9780007263516
Other Formats
Paperback from £5.59
Mixed media product from £20.05
Hardback from £8.50
EPUB from £1.49
Free Home Delivery
on all orders
Pick up orders
from local bookshops
Reviews
Showing 1 - 3 of 3 reviews.
Review by klarusu
16/06/2015
This is a though-provoking book aimed at a young adult audience but written skillfully enough to make it relevant and enjoyable for adult readers too. Often a controversial novel in America, it gives the reader an initial impression of a darkly controlling society in which the main protagonists live. This is the backdrop to what appears at first to be the normal worries of a boy on the cusp of having to make decisions about what he will become in adulthood. It is soon evident that no member of this society has the autonomy to make these decisions, all being pre-determined by the ruling body that controls this world. As Jonas moves from the schoolyard to his adult apprenticeship, it becomes clear that the price of the harmony members of the society believe they have is enormous when viewed through the reader's eyes.What sets this apart from many of the Young Adult novels dealing with alternate societies is the sinister nature of this world and the questions it raises about our own society. There is the constant shadow of the dark, euphemistic 'release', especially when applied to children. Despite the perceived benefits, this society is frighteningly conformist, with the eerie construction of idealised family units. Lowry invokes the classic dystopian image of the receipt of children from a centralised stock of nameless babies. All sense of individuality has been removed, even birthdays. Not even your feelings are your own in a society based on ultimate control; psychological, social and pharmaceutical.Lowry creates a likeable character in Jonas, you find yourself hoping for him to break free as the sense of horror mounts towards an eventual realisation of the reader's worst suspicions. The ending is ambiguous, leaving the reader's imagination to work and setting the scene for the other books in the trilogy.A note on the edition is merited - I read the HarperCollins 'More Than a Story' edition, which I can highly recommend for anyone who is thinking of giving this to a younger reader. It contains a great section of additional material to stimulate discussion and further reading, including a note from the author, a discussion of where to draw the line between defining a society as dystopian or utopian and a variety of other supplementary sections.This is definitely a worthwhile read for any age group. Despite the dark undertones (or more accurately, because of them), it is a stimulating read for younger readers and a relevant novel for adults.
Review by seekingflight
16/06/2015
I feel as if I've come late to the party on this one, a thought-provoking 'dytopia' novel that starts off by showing what seems like an idyllic society, and gradually reveals its dark undertones ...Jonah lives in a tightly regulated community that seems wonderful on the surface. Parents encourage their children to share their feelings after dinner, and Elders carefully observe the children as they approach the age of 12, and assign them to a profession best suiting their interests and abilities. Needless to say, all is not as rosy as it appears, and the book raises some interesting themes about memory, and the importance of some of the less pleasant/ more problematic aspects of our lives (pain, conflict, differences, confusion, doubt, and uncertainty).I wanted to love this story, but found that for me, the implausibility of some aspects of the society at times took me out of the philosophical realm and back into the mundane/ practical. I'm not sure that this is necessarily a fair criticism, though, and the book certainly works very well as allegory. I certainly did find myself thinking about the issues it raised long after I had closed the pages and put it away ...
Review by sirfurboy
16/06/2015
I enjoyed this book very much and finished it quickly. It is a tale that will set you thinking, and it is just a good story. However I must admit to some disappointment. My expectations were very high for this work. It is Newbery medal winner, a book that we know from the author's comments, was very well received - beyond anything she had experienced before, and thus I was expecting something exceptional. What I read was a story that had some flaws, and set me thinking, but was no more profound than Nicholas Fisk, Robert Westall (albeit himself a Carnegie medal winner) or other such authors. This was a very good book - just not exceptional.Before I get picky, I would point out I would still like to recommend this book to older young adult readers. But what did I not like? Well the world itself seems to lack explanation. We can understand perhaps why the world would seek to homogonise itself to reduce difference and relieve the suffering of difference and choice. But if we run with that premise, it is not clear why we would choose not to see colour. It is not really clear why we would choose to create the life we are shown. There is no hint, even, of some major event that caused people to react by turning themselves into automata. Personally I much preferred Orson Scott Card's "homecoming" series and also his "Worthing Saga", both of which explore this idea much more completely, and for my money, would be better and more thought provoking stories than this one.But this is a childrens or young adult book, and space is limited, so we can excuse much of this perhaps. We also must excuse the lack of explanation of what is happening with memories. Why are memories never lost? what is the mechanism for the passing of memory? We don't know but just take it on trust that this is now how the world works.Some people will not mind these gaps one bit, and for them this will be a five star book. For me though, I felt there were better renditions of the same story, although I still certainly enjoyed this one.
Also in the Essential Modern Classics series | View all