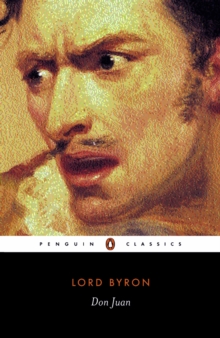 Description
Byron's exuberant masterpiece tells of the adventures of Don Juan, beginning with his illicit love affair at the age of sixteen in his native Spain and his subsequent exile to Italy.
Following a dramatic shipwreck, his exploits take him to Greece, where he is sold as a slave, and to Russia, where he becomes a favourite of the Empress Catherine who sends him on to England.
Written entirely in ottava rima stanza form, Byron's Don Juan blends high drama with earthy humour, outrageous satire of his contemporaries (in particular Wordsworth and Southey) and sharp mockery of Western societies, with England coming under particular attack.
Information
Format: Paperback
Pages: 784 pages
Publisher: Penguin Books Ltd
Publication Date: 26/08/2004
Category: Poetry by individual poets
ISBN: 9780140424522
Other Formats
Paperback from £7.99
Hardback from £26.99
Paperback / softback from £11.99
Free Home Delivery
on all orders
Pick up orders
from local bookshops
Reviews
Showing 1 - 4 of 4 reviews.
Review by Porius
16/06/2015
"there's only one slight difference between me and my epic brethern gone before,and here the advantege is my own, i ween... they so embellish, that 't is quite a boretheir labyrinth of fables to thread through,whereas this story's actually true."
Review by MeditationesMartini
16/06/2015
"Try and find something in here I haven't put my penis in. It's not easy!"<br><p>Screw (not all the time, but at this moment I am lionizing Byron, so screw) all the other Romantics with their philosophies and sensibilities. Byron is not even a poet in the hyperdense, words-on-paper-privileging sense that we are used to these days--he's a raconteur, and as such his poetry is a lot more capacious, more flowy, more conducive to being read out loud, more expressive of the medium's oral, social past. "Wedlock and padlock". Keats killed by one review. English ennui. He's not only a raconteur, he's full to bursting of upper-class bons mots. And in that sense, we get the cute reversal of Don Juan the ingenue, not lusting but being lusted, but we also get Byron playing the traditional Don Juan role, rolling and rocking and rollicking the story out with a leer. Putting his penis in it, shall we say. And think about how fast that changed from, say, Mozart's <i>Don Giovanni</i>, the degenerate genius of Joseph II's court rolling out a demonic hubris play. In <i>that</i> sense, <i>Don Juan</i> is Exhibit A for the case of Byron as the first modern.<br><p>(Penis!)
Review by Algybama
16/06/2015
A very modern and readable epic. Though some (maybe... 5%) takes a pretty hardcore reader to appreciate, it was easy for even a big noob like me to have a lot of fun.One of the finest long poems in English.
Review by le.vert.galant
16/06/2015
This was tremendous fun to read. Byron's personality infuses the work and he's a likable, open-hearted narrator. It's a picture of England just before the clouds of Victorian prudery turned love from a game to a chore. It also has a strong anti-war subtext that I wasn't expecting. A great read and a real surprise!<br/>
Also by Lord George Gordon Byron | View all