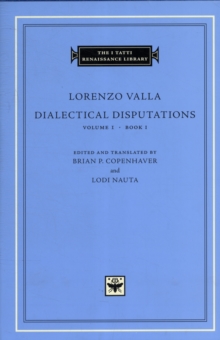 Dialectical Disputations : Bk. I
Hardback
Description
Lorenzo Valla (1407--1457) ranks among the greatest scholars and thinkers of the Renaissance.
He has secured lasting fame for his brilliant critical skills, most famously displayed in his exposure of the "Donation of Constantine," the forged document upon which the papacy based its claims to political power.
Less well known in the English-speaking world is Valla's work in the philosophy of language--the basis of his reputation as the greatest philosopher of the humanist movement.
The Dialectical Disputations, translated here for the first time into any modern language, is his principal contribution to the philosophy of language and logic.
With this savage attack on the scholastic tradition of Aristotelian logic, Valla sought to replace that tradition with a new logic based on the actual historical usage of classical Latin and on a commonsense approach to semantics and argument. Valla's goal was to provide a logic that could be used by lawyers, preachers, statesmen, and others who needed to succeed in public debate--one that was both stylistically correct and rhetorically elegant, and thus could dispense with the technical language of the scholastics, a "tribe of Peripatetics, perverters of natural meanings." Valla's reformed dialectic became a milestone in the development of humanist logic and contained startling anticipations of certain modern theories of semantics and language.
Information
Format: Hardback
Pages: 448 pages
Publisher: Harvard University Press
Publication Date: 03/08/2012
ISBN: 9780674055766
Free Home Delivery
on all orders
Pick up orders
from local bookshops
Also in the The I Tatti Renaissance Library series | View all