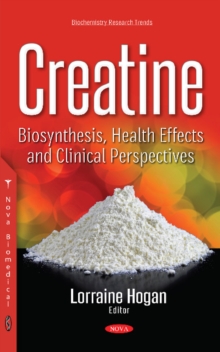 Creatine : Biosynthesis, Health Effects & Clinical Perspectives
Hardback
Description
Creatine ( -N-methylguanidino acetic acid) is a naturally occurring nitrogenous organic acid synthesised in the kidneys, liver, pancreas and brain (in less quantity), or obtained from a regular diet or as ergogenic nutritional supplement.
Creatine is a popular and widely used form of protein supplementation due to its efficacy in improving performance in healthy athletic populations via increased muscle mass and enhanced adenosine triphosphate (ATP) energy regeneration.
Chapter One reviews the available findings at animal and cellular studies as well as clinical trials investigating the neuroprotective effect of creatine and the possible mechanisms underlying its effect, which may represent important advances in the management of central nervous system diseases.
Chapter Two considers the potential efficacy of creatine as an anabolic and ergonomic therapy for RA patients.
In Chapter Three, a low-dimensional antimony-doped tin oxide aggregated nanoparticles (ATO NPs) were synthesised using hydrothermal method in alkaline phase.
In Chapter Four, data obtained from omics technologies and dynamical modelling are executed and analysed, given the exponential growth of these methodologies in biological scientific research.
The relevance of both creatine kinase system and creatine metabolism itself, as part of the molecular system bioenergetics in several components of cell (i.e., cytoskeleton, mitochondria, nucleus, endoplasmic reticulum, etc.), deserve to be examined from a systemic view that covers ascending and descending causality.
Information
Format: Hardback
Pages: 173 pages
Publisher: Nova Science Publishers Inc
Publication Date: 01/09/2017
Category: Biochemistry
ISBN: 9781536124149
Free Home Delivery
on all orders
Pick up orders
from local bookshops