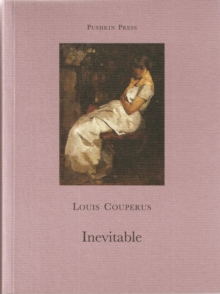 Inevitable
Paperback / softback
Description
A gripping story of doomed passion from the pen of the Dutch Oscar WildeCornelie De Retz Van Loo, a twenty- three-year-old divorcee from an upper- class Hague milieu, tries with mixed feelings to begin a new life in Italy.
She meets a Dutch painter, and they move in together, flouting convention.
They are happy but poor, and their financial position goes from bad to worse, until Cornelie encounters her ex-husband, and he begins to re-exert his influence over her ... 'Couperus binds both irony and spiritual redemption. '- The Daily Telegraph'Couperus sympathy for the hybrid, the impure and the ambiguous gave him a peculiarly modern voice.
It is extraordinary that this Dutch dandy, writing in the flowery language of fin-de-siecle decadence, should still sound so fresh.'- Ian Buruma, The New York Times Review of BooksThe portrait of their unfolding affair is a masterful observation of the beauty and illogic of romantic love. (...) Only the ending,which the title foreshadows, strikes an unhappy note; Cornelie's abrupt and arbitrary fate unbalances a finely shadowed novel. &mdashClare Clark Times Literary SupplementThere are many chapters in Inevitable, aside from the concluding one, which mark the book as an exquisite example of the fictionists art.
The author's touch is always delicate and sure in handling the lights and shades of thought and emotion. (...) There is not a poorly drawn character among the score or so in the book. - The New york Times Book ReviewLouis Couperus (1863-1923), regarded as one of the foremost figures in Dutch literature, was a leading member of the Tachtigers movement.
Born in the Hague, Couperus was taken by his family to the Dutch East Indies as a child, where he remained until his father's death.
His other novels include Eline Vere (1889), Ecstasy (Extaze: Een boek van geluk, 1892), Inevitable (Langs lijnen van geleidelijkheid, 1900), and The Hidden Force (De Stille Kracht, 1900), all of which are available from Pushkin Press.
A renowned wit, raconteur and commentator, Couperus continued to publish critically and commercially successful work until his death.
Information
Format: Paperback / softback
Pages: 336 pages
Publisher: Pushkin Press
Publication Date: 20/06/2005
ISBN: 9781901285598
Free Home Delivery
on all orders
Pick up orders
from local bookshops