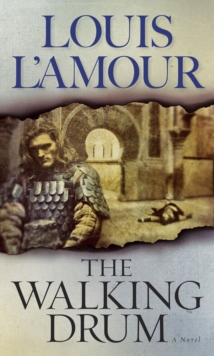 The Walking Drum
Paperback
Information
Format: Paperback
Pages: 480 pages
Publisher: Random House USA Inc
Publication Date: 01/04/1985
Category: Westerns
ISBN: 9780553280401
Free Home Delivery
on all orders
Pick up orders
from local bookshops
Reviews
Showing 1 - 5 of 10 reviews.
Previous | Next
Review by woodshopcowboy
16/06/2015
Honestly, it deserves closer to say, 2 and a half stars on that "literary" plain. But on the "too much fun" scale, this story blows anything written for a pulp audience out of the water. One liners abound, there's swords, explosions, good lookin' gals, horses, exotic lands, nuggets of historical details, a hellova classical bibliography if you go through each book mentioned. The only snag is the ending - L'Amour meant to write a trilogy and died before he could finish it. May god rest his soul and Kerbouchard ride again.WHY IS THIS NOT A MOVIE YET?
Review by mashcan
16/06/2015
This is not a western, it's about medieval middle east. Ali Baba and the forty thieves kind of thing. Interesting. L'Amour did his research. Also filled with more idiotic testosterone than one book should be able to hold.
Review by lorenelambert
16/06/2015
I love this book! I've read it at least 10 times. One of the best main characters in historical fiction.
Review by nathanm
16/06/2015
As a Louis L'Amour fan and medieval history buff, this novel disappointed me. I love reading his westerns, and his mysteries are just as good. Going into them, I know they're going to be formulaic, cliched, with predictable characters. But they're a great escape from my academic reading.It's obvious he did a lot of research and reading for the novel, and he clearly must've visited most of the locations where the story takes place. However, many of the facts in the book are based on outdated scholarship, even during the time he wrote it. I don't blame him for not being able to keep abreast of new developments in Crusade and medieval history. Many current college textbooks have the same problem.The protagonist is simply too great for one human being. Not only is he a matchless warrior and a scholar, everybody can't help but be impressed by him–especially the ladies. His athletic ability, skill with weapons, ease of learning languages, good looks, and yes, Druid-trained photographic memory, allow him to go from rags to riches–several times. In situation after situation, he somehow loses everything, only to slowly rise up again to hobnob with the rich and powerful.One of the most annoying aspects of this book is the constant, often pretentious, name-dropping of ancient and medieval writers. He describes several well-known and less popular works, but many times, he does no more than list their titles. The only saving grace of this novel is L'Amour's masterful storytelling ability. For all its flaws, it was still a fun read.
Review by DragonFreak
16/06/2015
 In the times of the Dark Ages, a man named Kerbouchard travels from his Druid land in search for his long lost father, presumably dead.Soon, Kerbouchard realizes that his quest is a most dangerous one. He makes counltess friends, but several deadly enemies and meets women of all kinds. He becomes many things including a scholar and a merchant. But what lies ahead will push him to the limits in this epic tale from Louis L'Amour.