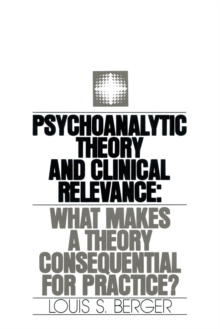 Psychoanalytic Theory and Clinical Relevance : What Makes a Theory Consequential for Practice?
Paperback / softback
Description
In this provocative contribution to both psychoanalytic theory and the philosophy of science, Louis Berger grapples with the nature of "consequential" theorizing, i.e., theorizing that is relevant to what transpires in clinical practice. By examining analysis as a genre of "state process formalism" - the standard format of scientific theories - Berger demonstrates why contemporary theorizing inevitably fails to explain crucial aspects of practice. His critique, in this respect, pertains both to the formal structure of psychoanalytic explanation and the technical language through which this structure gains expression. The pragmatic recommendations that issue from this critique are illustrated with respect to a number of perennial problem areas besetting analysis and cognate disciplines. In a discussion that encompases theories of affect, issues in family therapy, the nature of first-language acquisition, and the philisophical topics of free will and determinism, Berger shows that certain systems of representation (including ordinary language) can describe the psychological realm adequately, and that such systems necessarily follow modern physics in rejecting naive assumptions about the separability of theory and practice. His proposals culminate in a "nonhierarchical" conception of psychoanalytic theory that assigns a separate status to the clinically pragmatic level of theorizing. In both his critique of contemporary analysis and his reconstructive proposals, Berger fuses into a highly readable argument a fascinating range of insights culled from epistemology, linguistics, physics, logic, computer science, history, and aesthetics. More impressively still, he demonstrates how an investigation of psychoanalytic theory can serve as a vehicle for examining pervasive epistemological issues in both philosophy and the social sciences.
Information
Format: Paperback / softback
Pages: 224 pages
Publisher: Taylor & Francis Ltd
Publication Date: 21/01/2019
ISBN: 9781138872134
Other Formats
EPUB from £94.50
PDF from £94.50
Hardback from £97.15
Free Home Delivery
on all orders
Pick up orders
from local bookshops