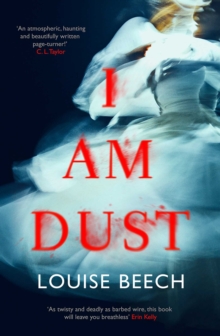 I am Dust
Paperback / softback
Description
When iconic musical Dust is revived twenty years after the leading actress was murdered in her dressing room, a series of eerie events haunts the new cast, in a bewitching, beguiling, moving and terrifyingly dark psychological thriller... 'A delicate supernatural thriller of love, loss, murder and the dangers that come with getting what you wish for.
Quite lovely in a dark, dark way' Sarah Pinborough 'Ghost story, murder mystery, romance.
This mesmerising and entertaining book has it all...' Emma Curtis 'Haunting, provocative, and true to Beech's style: packed with pain and heart' Jack Jordan _________________________________ A haunted theatreA murdered actressThree cursed teenagersA secret that devastates them all... The Dean Wilson Theatre is believed to be haunted by a long-dead actress, singing her last song, waiting for her final cue, looking for her killer... Now Dust, the iconic musical, is returning after twenty years.
But who will be brave enough to take on the role of ghostly goddess Esme Black, last played by Morgan Miller, who was murdered in her dressing room?
Theatre usher Chloe Dee is caught up in the spectacle.
As the new actors arrive, including an unexpected face from her past, everything changes.
Are the eerie sounds and sightings backstage real or just her imagination?
Is someone playing games? Is the role of Esme Black cursed? Could witchcraft be at the heart of the tragedy? And are dark deeds from Chloe's past about to catch up with her?
Not all the drama takes place onstage. Sometimes murder, magic, obsession and the biggest of betrayals are real life.
When you're in the theatre shadows, you see everything. And Chloe has been watching... ________ 'A bold, original concept brilliantly executed ...
I adored it' John Marrs 'A delicate and mesmerising thriller' Matt Wesolowski 'Dark and haunting ... further cements Louise Beech as one of the most original and exciting authors of the moment' Claire Allan 'Loads of twists and turns as the tension ramps up to breaking point' Gill Paul 'This book is about believing in yourself and finding out that you had the power all along' Madeleine Black 'It kept me reading until my eyes hurt and kept me thinking about it long after I'd finished' Fionnuala Kearney 'A work of almost tangible atmosphere and authenticity ... poignant and layered' S. E. Lyne
Information
Format:Paperback / softback
Pages:300 pages
Publisher:Orenda Books
Publication Date:16/04/2020
Category:
ISBN:9781913193218