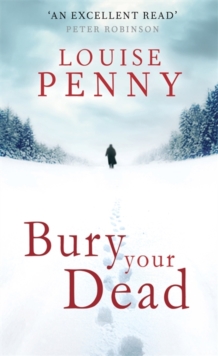 Description
As Quebec City shivers in the grip of winter, its ancient stone walls cracking in the cold, Chief Inspector Armand Gamache plunges into the strangest case of his celebrated career.
A man has been brutally murdered in one of the city's oldest buildings - a library where the English citizens of Quebec safeguard their history. And the death opens a door into the past, exposing a mystery that has lain dormant for centuries . . . a mystery Gamache must solve if he's to catch a present-day killer.Steeped in luscious atmosphere, brimming with the suspense and wit that have earned Louise Penny a massive global following, Bury Your Dead is the most ingenious suspense novel of the year.
Information
Format: Paperback
Pages: 480 pages
Publisher: Little, Brown Book Group
Publication Date: 01/02/2011
Category: Crime & mystery
ISBN: 9780751544442
Free Home Delivery
on all orders
Pick up orders
from local bookshops
Reviews
Showing 1 - 4 of 4 reviews.
Review by samsheep
16/06/2015
I don't usually read this kind of thing but I was drawn by the historical aspects of the plot. It started slow and I had to make myself keep reading but it did build up suspense at the end. Didn't really feel I learnt too much about the characters and I found the who-did-its quite unlikely.
Review by alanteder
16/06/2015
A terrific Canadian Cozy. This is the first Chief Inspector Armand Gamache novel by Louise Penny that I've read and I enjoyed it immensely. It is a very good example of cozy mystery fiction (as opposed to hard-boiled mystery fiction i.e. not so much violence driven) and since it is also Canadian-based that was also an asset for me.There are actually five (!) mystery plot lines to this book and one of them is a continuation from the previous book in the series, "The Brutal Telling" (Chief Inspector Gamache #5) so if you are planning to read that one as well then you might want to read it first, as otherwise this 6th book in the series will be a spoiler for you. In fact, you better stop reading even this review now if that is the case.Probably the most shocking thing in this book is that apparently the solution in "The Brutal Telling" was incomplete and Inspector Gamache sets out to redress that through his second-in-command Jean-Guy Beauvoir during this next book in the series. Maybe my reading is limited, but I don't remember this ever being used as a plotline by any other mystery author (i.e. where a later book is used to rewrite the ending of an earlier book). Fans of "The Brutal Telling" might be taken aback though.Both Chief Inspector Gamache and Inspector Beauvoir are on a combined administrative and medical leave from official duties as the result of a hostage-taking incident where they are now under review through an enquiry and where they were both injured. This part of the story is told in flashbacks by both of them while they are unofficially pursuing their current cases. Beauvoir is back at Three Pines Village re-looking at the murder of "The Hermit" while Gamache is drawn into a case involving the murder of an amateur archeologist who was fanatical about looking for the lost burial location of Québec-founder Samuel de Champlain (1567-1635). This part of the story is based on a true-life fact, building and document fires and a possible subsequent reburial have caused the Champlain burial location to be lost. During his leave, Gamache was also pursuing a private research enquiry into the events behind French General Montcalm's loss to English General James Wolfe in the Battle of the Plains of Abraham in 1759 during the French and Indian War fought between the North American colonies of England and France. This is what places him at the location of the Literary and Historical Society Library in Québec City where the current murder takes place and how he gets drawn into a case even though he is supposedly not on active duty.All of this may sound complicated when summarized in a few paragraphs, but Penny very carefully lays out all of these combined plotlines and the flow is very comprehensible. There is lots of wintery old Québec City and Three Pines Village atmosphere inside cozy buildings with wood fires and libations to warm our investigators and a few dozen quirky characters to interview and investigate. Gamache has his trusty police dog Henri and his old mentor Émile Comeau to keep him company throughout. I thoroughly enjoyed this and my only regret is that I read this in the spring instead of in the depths of winter when it would have helped keep me warm through the chill. Count me in as a new Louise Penny fan and future regular reader.
Review by lit_chick
16/06/2015
Chief Inspector Armand Gamache is on leave and in Quebec City visiting his venerable mentor, Emile Comeau, when the body of a local historian is found in the basement of the Literary and Historical Society. Augustin Renaud had been for decades obsessed with finding the remains of Samuel de Champlain, founder of Quebec. Problem: Champlain discovered Quebec some four hundred years earlier, and died shortly thereafter. A fanatic, Renaud was a thorn in the side of the Lit and His Society, the Champlain Society, and Quebec City's Chief Archeologist. No shortage of suspects then, and ample motive. When Gamache is called upon by local police to assist with the murder investigation, he discovers that a series of historical journals, in particular one volume from 1869 which is missing, is likely to hold the key to Renaud's murder. As always, Gamache is an astute of observer of human behaviour:"Gamache nodded. It was what made his job so fascinating, and so difficult. How the same person could be both kind and cruel, compassionate and wretched. Unraveling a murder was more about getting to know the people than the evidence. People who were contrary and contradictory, and who often didn't even know themselves." (226)Two story lines run parallel to the central mystery. Jean Guy Beauvoir, also on leave, is in Three Pines where Gamache has him revisiting Olivier Brule's conviction in the death of the "Hermit" whose remote cabin was discovered to have been full of valuable artifacts. But why, I wondered, were both Gamache and Beauvoir on leave? This couldn't be coincidence – something had to have gone wrong on the job. Indeed – and this mystery is addressed in the final story line. Brilliantly, Penny reeled me in for over three hundred pages, bit by bit divulging the answers to my questions. Up front, we learn that the two Sûreté officers are rehabilitating from serious injuries sustained in a recent mishap which left several officers dead, and several more injured …Louise Penny's Three Pines series just keeps getting better! I want to quit my job, hole up in my house, and read the rest of them sans interruption. Highly recommended.
Review by Cecilturtle
27/08/2015
Wow! Louise Penny simply outdoes herself in this mystery! Her series has been slowly building and whereas the first were quaint and charming, this book culminates in a savvy weaving of stories, histories and political agendas. All this without ever being confusing, maudlin or strident.Penny looks at the place of Anglophones in the heart of Québec, not welcomed but tolerated as a linguistic group carrying a heavy past of political loss in a greater context of historical wins. She hints at the separatist movement, at the infringement of linguistic rights, at the survival of a people. At the heart of this polemic is the great Samuel de Champlain and his role as a nationalist figure. It's a wonderful historical mystery.More than that, she is able to bring in a previous, suddenly unresolved mystery. Reading A Brutal Telling is key to understanding this thread. Could the great Gamache have made a mistake in judgement? Gamache's human frailty is further questioned in an affair that readers have not yet discovered but which is revealed throughout the novel. Never, as a readership, could we have guessed Gamache to be involved in such a violent and complicated case, one of terrorism rooted in our very soil and - again - history, but this time with our Native people.I simply couldn't put the book down and I marvel at the mastery with which Penny pulled all of this together. On to the next!
Also in the Chief Inspector Gamache series | View all