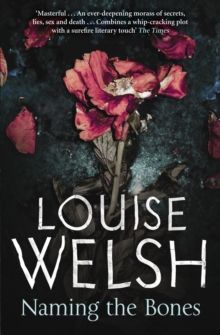 Naming the Bones
Paperback
Description
Some secrets are best left buried ...Knee-deep in the mud of an ancient burial ground, a winter storm raging around him, and at least one person intent on his death: how did Murray Watson end up here?
Information
Format: Paperback
Pages: 400 pages
Publisher: Canongate Books Ltd
Publication Date: 01/02/2011
ISBN: 9781847672568
Free Home Delivery
on all orders
Pick up orders
from local bookshops
Reviews
Showing 1 - 5 of 8 reviews.
Previous | Next
Review by Luli81
16/06/2015
Finally!! I had been waiting for this book for ages and it never seemed to arrive. So when it did, I plunged straight into it and started reading even though I'm not usually very keen on thrillers and I had never read anything by Welsh before.The result: I was positively surprised, the book has resulted to be worth waiting for!Maybe the Gothic atmosphere, maybe the detailed characters, maybe the smug style... Everything helped to create a very real and evocative setting and as the novel took pace I found myself trying to read ahead to see what was going to happen, especially in the second part of the story, which I read almost in a single day.The novel is about an English Literature Professor who is taking a sabbatical year in Scotland to write a biography of a very talented poet who died in strange circumstances when he was very young. As the story starts to unfold, past and present seem to mix and Murray will have to fight his own evils to reveal the truth, not without some sexy and disturbing passages. The story also takes a personal touch when family problems get in the way and Murray will have to decide what he expects from life and from those who really love him.I also enjoyed the fact that the author raises the question of whether an artist should be remembered only for his work or also for the life he lead, the people he met, and the kind of person he was when he created his masterpieces. Is it the final work or the man that matters?All in all, a good, light reading, great for any holidays break or for those who like a well written thriller.
Review by CarltonC
16/06/2015
This author writes well and I enjoy her style. I also enjoy the Scottish setting with the academic and art world background.But the story is a bit too weird for my tastes, as the stories have been in her two other books that I have read. I keep reading her works as I feel that she will, one day, write a really enjoyable work. Not this one.
Review by Eyejaybee
16/06/2015
An engrossing tale of a Scottish academic's quest to investigate the life and untimely death of a minor poet who had published a fine collection of verse in the early 1970s but then failed to publish anything further. As he digs deep into the mysterious life of Archie Lunan, Murray Watson finds his own life unravelling, and then under threat.As always with Louise Welsh the tension is built up faultlessly, and the plot and characters are always entirely plausible.
Review by nicx27
16/06/2015
This is the story of a brief time in Dr Murray Watson's life. He's a professor of English Literature at Glasgow University, and has been obsessed with poet, Archie Lunan, since he found a copy of his only book of poetry in a charity shop when he was 16. Now, Murray is taking a sabbatical to write Archie's biography. However, Archie died years ago and Murray has a hard slog ahead of him to find out anything about his life.The book starts off in Glasgow and Edinburgh, and then the action moves to the Isle of Lismore. I particularly enjoyed this section, as I find island life fascinating.I thought this was an excellent read, even though it was nothing like how I imagined it would be (the very brief blurb doesn't exactly give any clues to what the story is about). I enjoyed Murray's amateur detective work, as he traced people who had known Archie. Nothing ever went to plan though, and I did find myself smiling at his haplessness at times. I found myself pulled into the story, and think the author did a great job of bringing the characters and locations to life. I did find it needed a fair amount of concentration, I think because there's a lot of information in the story and people on the periphery of the action who needed to be recalled later on. I really wouldn't call it a crime or thriller book. I think maybe it's a literary detective novel. Either way, I thought it was very well written and an intriguing story, and I look forward to reading more of Louise Welsh's work.
Review by jebronse
16/06/2015
It had been a while since I last read a book in English, and it turned out fine. It takes about 300 pages before things get nasty, and that is quite long. But I enjoyed the story about academic Murray Watson who wants to write a book about one-day poet Archie Lunan. His quest eventually takes him to a distant Scottish island and some of Archie's closest friends who cherish a well-hidden secret. Nice book, but not over-exciting.