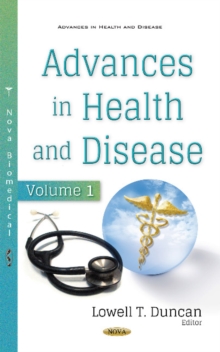 Advances in Health & Disease : Volume 1
Hardback
Description
Bariatric surgery (BS) is a set of effective surgical procedures used for weight reduction and improvement of insulin sensitivity in morbidly obese patients, in comparison with non-invasive techniques such as drug treatment or changes in lifestyle.
Chapter one discusses the effects of bariatric surgery on weight and diabetes, while Chapter Two focuses on peri, postoperative and late complications.
Chapter Three covers Gastroesophageal reflux disease (GERD), a disease characterised by abnormal reflux of gastric content and can be non-erosive or erosive, and the efficacy of a dietary compound containing chondroitin sulphate, aluminium hydroxide and hyaluronic acid.
Chapter Four covers the role that the Transforming Growth Factor-beta family plays in the lives of metazoans, controlling key physiological processes from embryonic development to adult tissue homeostasis.
In Chapter Five, the authors discuss their ongoing study on destroying food proteins that are responsible for allergy by different food processing techniques.
Nickel, lead and cadmium are frequently unintentionally added to cosmetics as impurities during manufacturing.
Chapter Six proposes an exhaustive focus on what metals are of interest, and what is the state of the art about analytical methodologies suitable to detect these toxic metals in cosmetics and personal care products.
Chapter Seven examines the influence friend and family factors have on lifetime e-cigarette use, past year e-cigarette use, and perceptions of trying e-cigarettes soon in a national sample of Hispanic junior high and high school students.
Free Home Delivery
on all orders
Pick up orders
from local bookshops