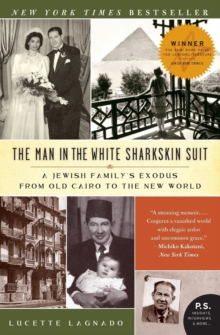 The Man in the White Sharkskin Suit : A Jewish Family's Exodus from Old Cairo to the New World
Paperback
Description
Lucette Lagnado's father, Leon, is a successful Egyptian businessman and boulevardier who, dressed in his signature white sharkskin suit, makes deals and trades at Shepherd's Hotel and at the dark bar of the Nile Hilton.
After the fall of King Farouk and the rise of the Nasser dictatorship, Leon loses everything and his family is forced to flee, abandoning a life once marked by beauty and luxury to plunge into hardship and poverty, as they take flight for any country that would have them.A vivid, heartbreaking, and powerful inversion of the American dream, Lucette Lagnado's unforgettable memoir is a sweeping story of family, faith, tradition, tragedy, and triumph set against the stunning backdrop of Cairo, Paris, and New York.Winner of the Sami Rohr Prize for Jewish Literature and hailed by the New York Times Book Review as a "brilliant, crushing book" and the New Yorker as a memoir of ruin "told without melodrama by its youngest survivor," The Man in the White Sharkskin Suit recounts the exile of the author's Jewish Egyptian family from Cairo in 1963 and her father's heroic and tragic struggle to survive his "riches to rags" trajectory.
Information
Format: Paperback
Pages: 368 pages
Publisher: HarperCollins Publishers Inc
Publication Date: 01/07/2008
Category: Biography: general
ISBN: 9780060822187
Free Home Delivery
on all orders
Pick up orders
from local bookshops
Reviews
Showing 1 - 5 of 5 reviews.
Review by LaBibliophille
16/06/2015
The Man in the White Sharkskin Suit is an extraordinarily moving and well-written memoir that speaks to the immigrant experience that built America. The focus is on author Lucette Lagnando's family, particularly her father, Leon. Leon was a prosperous Cairo businessman. A lover of Cairo's nightlife, Leon did not consider marriage until spying 20 year old Edith at an outdoor cafe in 1943.Within a few weeks, they become engaged, and wed shortly after.Devout Jews, the Lagnado family lived in harmony with their Moslem and Christian neighbors in a spacious apartment on a bustling Cairo boulevard, Malaka Nazli. The Lagnado family has servants. The children attend the finest schools, and wear the finest clothes, and are often treated to excursions to Cairo's most renowned cafes and pastry shops. The family vacations each year by the sea, and visits with their extended family are routine.This magical life ends when Nasser comes to power, and the Jews of Egypt are forced to leave with only whatever clothing they can take-no money, no jewelry, nothing that would help them begin a new life. The family spends a year living in Paris, then comes to New York, all with the assistance of international refugee aid organizations. Eventually, the Lagnado family ended up in Bensonhurst, Brooklyn, amidst a small community of Egyptian Jews.Over the years, the different family members react to their new circumstances in different ways. As Leon and Edith age and become more infirm, their children become more distant, and more American. Leon and Edith never really become American.The Man in the White Sharkskin Suit is a love letter to a time gone by, and also a sad and realistic depiction of how immigrants become American. As all traces of their old life disappear, some become stronger, and other are destroyed.I highly recommend this fine memoir, and look forward to reading more of Lucetter Lagnado's work.
Review by flashflood42
16/06/2015
A fascinating portrait of what it was like to live in Cairo in the 1950's pre-Nasser and during Nasser's time if one was a well-to-do Syrian Jewish family. The book is a memoir by the author (a Wall St. Journal investigative reporter) of her father, an elegant though somewhat dissipated business man in Cairo whose source of income is not ever clear and who was, though always out at night dancing and having affairs, a pious man at heart. The young daughter adores her father who adores her and keeps him on a pedestal even though his patriarchal attitudes powerfully influence the family, leading to submission on his wife's part and rebellion from his oldest daughter. The focus of the story is on how this elegant man was broken by despair and an inability to accommodate when he was forced to emigrate first to Paris and then to America. Had he not fallen before he left and hurt himself so that walking was agony, had he been allowed to take more than 200 pounds for his entire family (not the art, jewels, and monies he had accrued), had people resettling refugees been more empathic, perhaps the family history would have turned out better. My two criticisms: there should have been more of the politics of the time reflected in the book (though I do know it was told through the eyes of a child who would not have understood) and in the American section, I was surprised that the author gave so little credit to her mother and seemed to continue to idolize her father, all this when she was mature enough to be more perceptive.
Review by caroren
16/06/2015
Lagnado's captivating account of her family's life in cosmopolitan Cairo and painful relocation to America centers on her beloved father. Dashing man-about-town Leon Lagnado, who kept to his carousing ways even after marrying a beautiful women 22 years his junior, was enraptured at the age of 55 by the author, his fourth child; affectionately called Loulou, she became her father's companion, even at temple services and the Nile Hilton bar. But the Suez war in 1956 and the Nasser regime's cultural holocaust began forcing Jews from their native Egypt. Leon's injury in a fall and Loulou's mysterious illness (first diagnosed as cat scratch fever, eventually found to be something far worse) delayed the Lagnados' departure until 1963, when they arrived in New York with $212, the maximum they were allowed to take out of Egypt; and Leon, once a prosperous, independent businessman and investor, was reduced to selling ties on the street. In Lagnado's accomplished hands, this personal account illuminates its places and times, providing indelible individual portraits and illustrating the difficulty of assimilation. An exceptional memoir. Leber, Michele
Review by maureen61
16/06/2015
A poignant memoir of a Jewish family in Egypt severely impacted by the exodus demanded when Nassar came to power. Well narrated with great love and fine detail.
Review by diananagy
27/08/2015
I quit reading this book because I just wasn't very interested in it. I am a learner and this book wasn't really teaching me anything so I quit reading it after page 118. But I could have read it and would recommend it to anyone who wants to read this storyline. It is well written. Just not for me.
Also by Lucette Matalon Lagnado