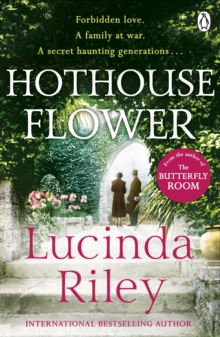 Hothouse Flower
Paperback
Description
Note to readers: Outside of the UK, this book is published under the title The Orchid House A heart-rending page turner which sweeps from war-torn Europe to Thailand and back again ...As a child Julia Forrester spent many idyllic hours in the hothouse of Wharton Park estate, where her grandfather tended the exotic flowers. So when a family tragedy strikes, Julia returns to the tranquility of Wharton Park and its hothouse.
Recently inherited by charismatic Kit Crawford, the estate is undergoing renovation.
This leads to the discovery of an old diary, prompting the pair to seek out Julia's grandmother to learn the truth behind a love affair that almost destroyed Wharton Park. Julia is taken back to the 1940s where the fortunes of young couple Olivia and Harry Crawford will have terrible consequences on generations to come.
For as war breaks out Olivia and Harry are cruelly separated ...
Information
Format: Paperback
Pages: 592 pages
Publisher: Penguin Books Ltd
Publication Date: 25/11/2010
Category: Sagas
ISBN: 9780141049373
Free Home Delivery
on all orders
Pick up orders
from local bookshops
Reviews
Showing 1 - 3 of 3 reviews.
Review by SooperSoozy
16/06/2015
This is a wonderful, refreshing antidote to some of the heavier/more harrowing books i've read recently - it's a really good, meaty, old-fashioned page-turner, in the classic family saga mold that sadly seems to have been out of vogue in recent years....written with great style and descriptive prowess. Smashing characters, glamorous locations, family secrets and interconnnected love stories spanning three generations. Well plotted, plenty of twists and turns, (one or two of them a tad predictable, but I didn't mind that!). Overall a great read that's relatively undemanding but still involving, well-crafted, thought-provoking, emotional and entertaining. Loved it!
Review by LARA335
16/06/2015
My copy entitled "Hothouse Flower".Loved the idea of the plot: a modern story and one set in the 1930's/40's, linked by a Country House. But this was let down by dull, clunky dialogue, and too-good-to-be-true supporting characters and main characters that I couldn't warm to or care about.
Review by DubaiReader
16/06/2015
Hothouse Flower, alias The Orchid House.At the time that I listened to this as an unabridged book from Audible, I was far too busy with family commitments to write a review, but I think it is telling that now, as I find the time to write, I realise that I remember very little about the book and it has had no lasting impact on me. At the time, my 3 star rating echoed the feelings of my book group as well as myself, that this was not as good as Lucinda Riley's The Light Behind The Window, which I gave 4 stars.It is the current day plot that I recall best: Talented concert pianist, Julia Forrester is home from France, grieving the loss of her husband and son. She is in pieces and has returned to her childhood village, where her sister is offering moral support. As she gradually drags herself out of the pit of despair, she is persuaded by her sister to attend a sale of contents of Wharton Park. Somewhat predictably, she purchases an item that links her back to the Park's past via her own relatives.The part of the book set in WWII, with Harry Crawford, heir to Wharton Park, and Olivia, his young bride is less clear in my mind. I find this surprising as I usually prefer the earlier time frame of this type of book.I visited the author's website, where she explains the significance of Wharton House, a sizeable, old family home, originally in a much larger estate, inspired by her own house. At the time she wrote the book, her friend was struggling with the pressure to sell a similar house, in order to pay off death duties, which generated Kit's situation in The Hothouse.For me, the book's strongest features were the author's vivid descriptions of Julia's struggle to return to some sort of normality after her loss and the scenes later on, when we visit the old man, still living on the estate, and he retells his story from the war. Other aspects of the plot and characterisations lacked depth and were less satisfying.My audiobook was well read by Beth Chalmers.